The streets hugging Manhattan's High Line, around the emerging new Hudson Yards development, have several new luxury rental buildings with over-the-top amenities. 
But the neighborhood, on the far west side, still has the feel of a construction zone, without much of the everyday retail options available in an established area. And then there are the crowds who flock to the High Line, about 8 million annually now, and most of them tourists, according to the New York Post.
One of the new residential additions to the neighborhood is the Eugene, at 435 West 31st St., which was completed last year. Apartments have floor-to-ceiling windows, custom interiors, and honed granite countertops. Building amenities include a gym, concierge, live-in super, media room, storage, and roof deck. There's also a golf simulator, billiards room and pet grooming station. The least expensive listing there this week is a studio, which is asking an eye-popping $4,000 with one month free.
This studio has a good amount of storage space, with a walk-in closet. There's also a washer/dryer and a dishwasher, custom cabinetry and custom bathroom tile. The fully-tiled bathroom has the feel of a spa.
Close by are Madison Square Garden and Penn Station, about two blocks away. The building has a two-acre public plaza and shops and restaurants. When Hudson Yards officially opens in 2019, the massive development will essentially introduce an entire neighborhood of luxury towers, high end restaurants and pricey stores.
As always when weighing New York City apartment listings, we turn to our Take It Or Leave It experts: myself (filling in for senior editor Nathan Tempey), Constantine Valhouli, founder of real estate research and analytics firm NeighborhoodX, and freelance writer Lambeth Hochwald.
But first, here are more pictures of the apartment, as well as the common space and building.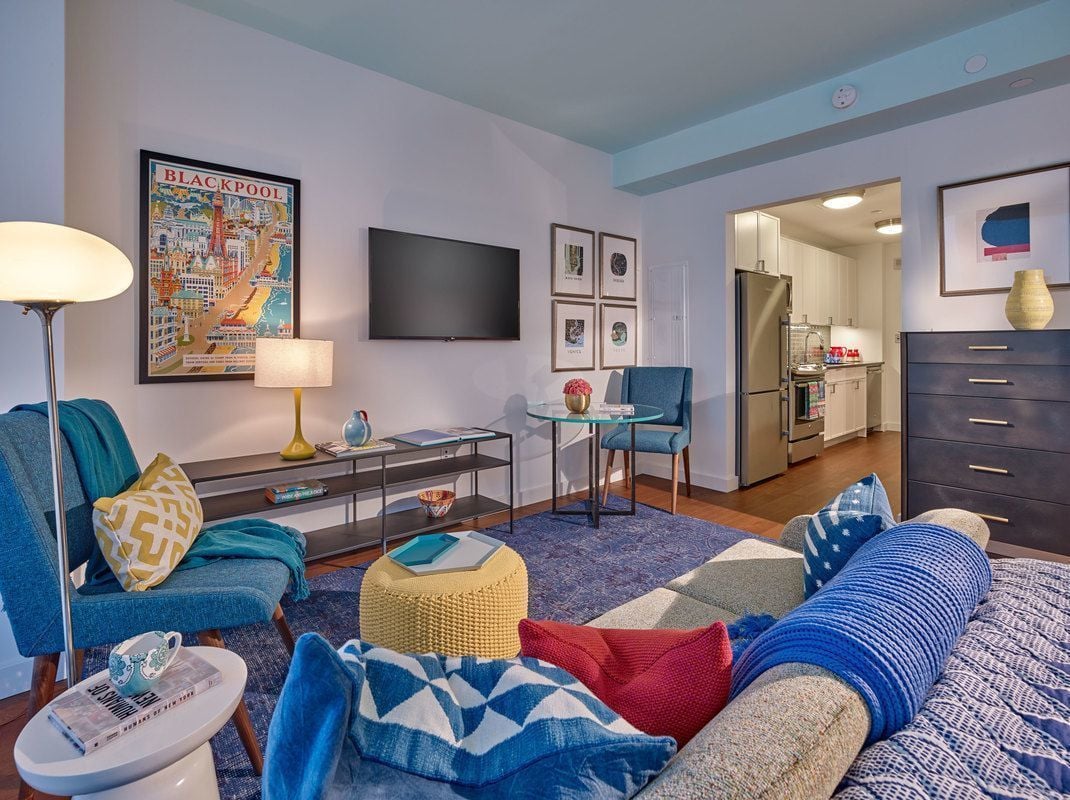 Pros and cons
"Like the feel of living in a neighborhood on the rise? Then this studio's for you. It's the least expensive apartment in the Eugene—which, on the one hand, has glitzy interior details and top of the line appliances, gorgeous bathrooms and kitchens but the building is right at the entrance to the Lincoln Tunnel, which is a definite con." —Lambeth Hochwald
"With a net effective rent of $3,664, the actual rent (excluding the free month amortized over the lease) is pretty much $4,000 per month. For a studio. In a (nice) building wedged between the entrance to Lincoln Tunnel and the ongoing construction site at Hudson Yards. 
"On one hand, there are daily traffic jams, along with multilingual cursing and a healthy dose of Jersey accent, plus the use of car horns in lieu of verbal communication, or just to express the existential rage of gridlock. If you live here, don't plan on keeping your windows open during the morning or evening commutes. Good luck trying to nap. 
"On the other hand: The interiors are by RW Studio, a division of Roman & Williams, who are the baddest architectural mofo's practicing today. My personal belief is that Stephen Alesch is the cross-pollinated reincarnation of Stanford White and a 1960s surfer, equal parts Newport, Rhode Island and Newport Lights. Chances are, he and his wife Robin designed your favorite buildings or interiors in NYC." —Constantine Valhouli 
"The amenities are incredible. It has the feel of a resort, with a La Palestra Wellness & Fitness Center and LIVunLtd by Abigail Michasels Concierge Services. And once the construction in the area is completed, it will be a beautiful, exciting place to be. But the price tag—for a studio!—puts this out of reach for 99 percent of New Yorkers." —Jennifer White Karp
Whom it's perfect for 
"Someone with extra cash in hand who wants to leave roommate life behind and plans to spend a lot of time enjoying the building's luxe amenities." —Hochwald
"Foreign spies. Seriously, no judgment on one's ability or willingness to fork over about $6,000 pre-tax dollars a month (!) to live in one room. If you're making that much cash, live in a place with at least two rooms. My personal advice would be to save the cash and buy a place. Or live modestly at home and spend the balance on amazing dinners and extravagant bar tabs. But since I'm not going there, I'd rather see all the Russian spies, operatives from China, and lobbyists from inside the U.S. get concentrated into a single building where they are at least paying it forward into NYC's coffers with a bonkers level of rent." —Valhouli
"A business person who comes to New York City frequently and wants top hotel service and sees this as a good investment in a brand new neighborhood." —White Karp
Take it or leave it
LEAVE IT "You're not exactly a pioneer in an emerging neighborhood if you're paying nearly $4,000 a month for one room!" —Hochwald
LEAVE IT "Pricewise, this seems like the lovechild of Anna Delvey and the Fyre Festival." —Valhouli
LEAVE IT "You have no choice but to leave it. Someone just rented it." —White Karp