First, there were co-working spaces shaking up the office real estate market. Now co-living spaces are trying to do the same to the residential rental market in NYC in a big way, appealing to millennials with a lavish take on dorm-style living.
As Brick Underground found in our guide to co-living spaces in NYC, there are at least 10 co-living companies that have opened here. While the companies vary in terms of appeal, all aim to reduce the hassles of renting, like finding an apartment, roommates, and furnishings, while providing an array of services such as house cleaning and social activities. But the drawbacks are relatively high prices for typically small apartments.
Still, if you don't plan to spend much time in your apartment, and you like having a lot of people around in communal spaces, then 29-22 Northern Blvd., #6301, in Long Island City, may be for you. This is Alta+ by Ollie's newest building, with 160-plus "microsuites" with two and three bedrooms, and 297 standard apartments ranging from studios to three bedrooms. There are 27,000 square feet of amenities, including a fitness center, yoga studio, indoor lap pool, lounges, lawn, terrace, outdoor movie theater, golf simulator, and event space.
Complimentary hotel-style services and events include housekeeping, linen and towel service, high-speed wifi, social gatherings, brunches, and sunset yoga.
This microsuite is a three bedroom, two bath (microsuites range in size from 495-941 square feet, and it's not clear how large this one is). There's a queen-sized Murphy bed, and the other bedrooms have full-sized beds. Furniture here is minimal, for example there are no couches, but there is not much space for them anyway. One of the bedrooms appears to have a desk and a chair. The rent is $5,481, with one month free and no broker's fee.
The building is next to the the E, M, and R subway entrance at Queens Plaza and near the N, Q, and 7, for a 10-minute commute to midtown Manhattan. 
As always when weighing New York City apartment listings, we turn to our Take It Or Leave It experts: myself (filling in for senior editor Nathan Tempey), Constantine Valhouli, founder of real estate research and analytics firm NeighborhoodX, and freelance writer Lambeth Hochwald.
But first, here are more pictures of the apartment, as well as the common space and building.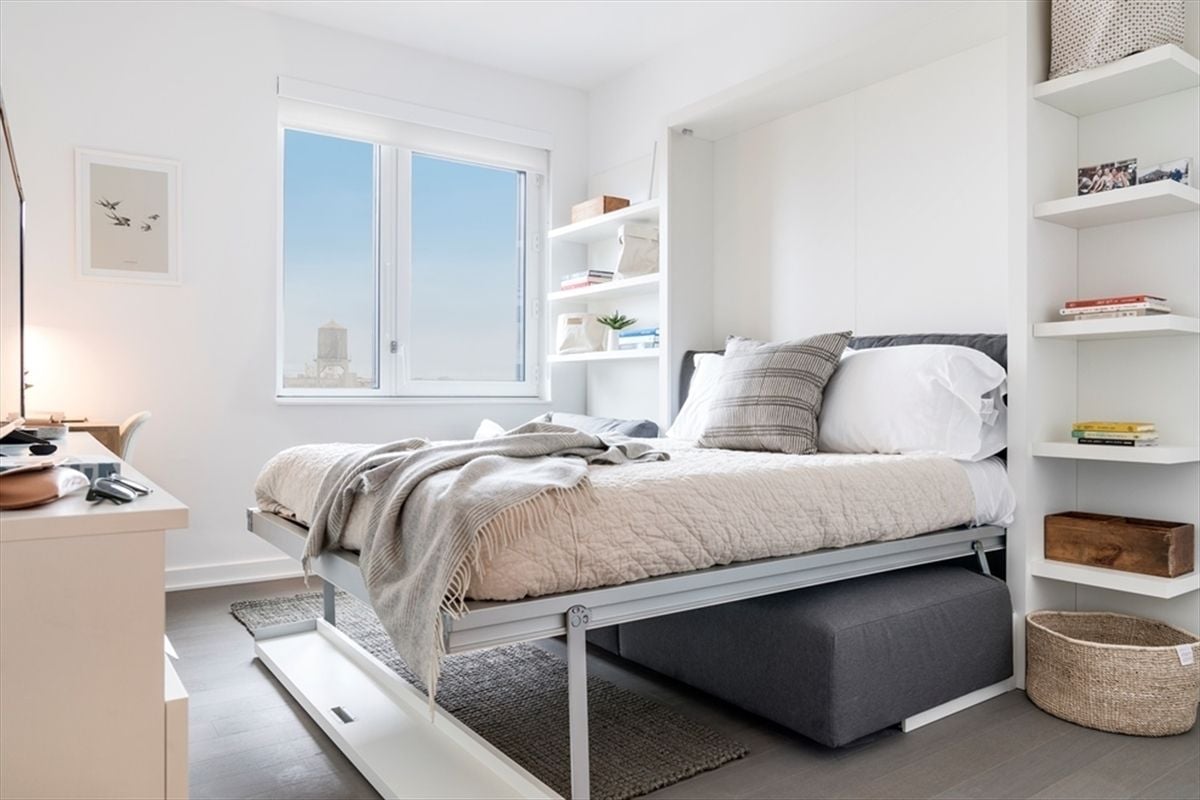 Pros and cons
"You had me at weekly housekeeping! These microsuites are pretty cool for those people moving to the city without much stuff. On the flip side, are we talking about paying over $5,000 to live solo and share space in LIC?" —Lambeth Hochwald
"Pros: Pool. Yoga. Cons: From the picture, those look like glorified Murphy beds. Your date might swipe right on your photo, but swipe left on the Murphy bed. Just sayin'."—Constantine Valhouli 
"This is a pretty stylish way to approach your first apartment in NYC, and seems like a great way to meet people and get comfortable before going off on your own. It just doesn't strike me as something that feels very grown-up and independent." —Jennifer White Karp
Whom it's perfect for 
"A lonely single tired of living in an anonymous apartment building." —Hochwald
"The developer. From their POV, there are few things better than upping the concentration of tenants paying a premium per square foot for space that would otherwise be larger, less-profitable units. But this seems like not a bad choice for three friends who'd like a social building with amenities, and who are willing to trade space for convenience and playrooms." —Valhouli
"Someone new to the city that works long hours in Midtown and wants to have an instant group of friends to hang out with." —White Karp
Take it or leave it
LEAVE IT "...and just find a yoga studio where everyone knows your name!" —Hochwald
TAKE IT. "It's worth experiencing this even for just a year. It's kind of zeitgeisty." —Valhouli
TAKE IT. "But for a short time only. Make friends, learn your way around, and then move on!" —White Karp