Commercial buildings that have been repurposed for residential use have lots of appeal. Apartments often incorporate original architecture details like exposed brick walls, industrial pipes, and structural wood beams, which add visual appeal. Then there's the history, which lends a residential building some authenticity, and let's face it, bragging rights: Isn't it fun to be able to claim you live in a former factory?
But adaptive reuse, as this kind of building revamp is called, can also spark community fears of gentrification, namely rising rents that push longtime residents out, and erode a neighborhood's character. And so if you are on the hunt for an apartment and love the look of a former commercial space, you would be wise to take into account a building's recent history as well as its past, if being a good neighbor and being welcome in a community is important to you. One question you can ask: Were (enough) affordable apartments created by this development?
Case in point is this stunning apartment, 115 Stanwix St., #222, in Bushwick, part of a massive, 10-block redevelopment of the former Rheingold Brewery, where there are multiple projects by different developers. There were numerous protests over the rezoning that paved the way for these projects, and over the number of affordable housing units allocated. (An affordable housing lottery, now closed, offered 41 apartments at 115 Stanwix (out of 130 units) at below-market rents, including two bedrooms starting at $1,718).
That's a far cry from what you would be paying for this market-rate apartment, a two bedroom, one bath asking $3,210 with no fee. (That's way above the $2,458 median asking rent for a two bedroom in the neighborhood, according to StreetEasy). The listing says the rent is net effective, but doesn't give any indication of how many months are offered free. That's also an indication the gross rent, or the rent you'll be paying each month, would be higher.
The architectural details plus the modern upgrades make this pretty impressive. The apartment has red oak hardwood floors, floor-to-ceiling windows, and smart home technology, while the common space features multiple lounges, a co-working space, coffee bar, gym, library, screening room, children's playroom, and rooftop garden. There's also central air conditioning, a dishwasher, parking and laundry in the building. Guarantors are accepted.
As for the neighborhood, it's a block from NYCHA housing, and also a couple blocks from Roberta's and other bars and restaurants. Roberta's, if you're not aware, put Bushwick on the map, and not just for its pizza. "Roberta's embodied the shitty, DIY, back-to-the-land-in-a-post-industrial-building aesthetic of the aughts, which manifested in everything from dumpster pools ... to backyard chickens," as Eater puts it.
So thumbs up or thumbs down on this apartment? Are the over-the-top amenities for a Brooklyn rental building and the great design worth the high rent? What about issues of gentrification and displacement?
As always, when weighing New York City apartment listings, we turn to our Take It Or Leave It experts: Constantine Valhouli, founder of real estate research and analytics firm NeighborhoodX, freelance writer Lambeth Hochwald, and myself.
But first, here are pictures of the apartment.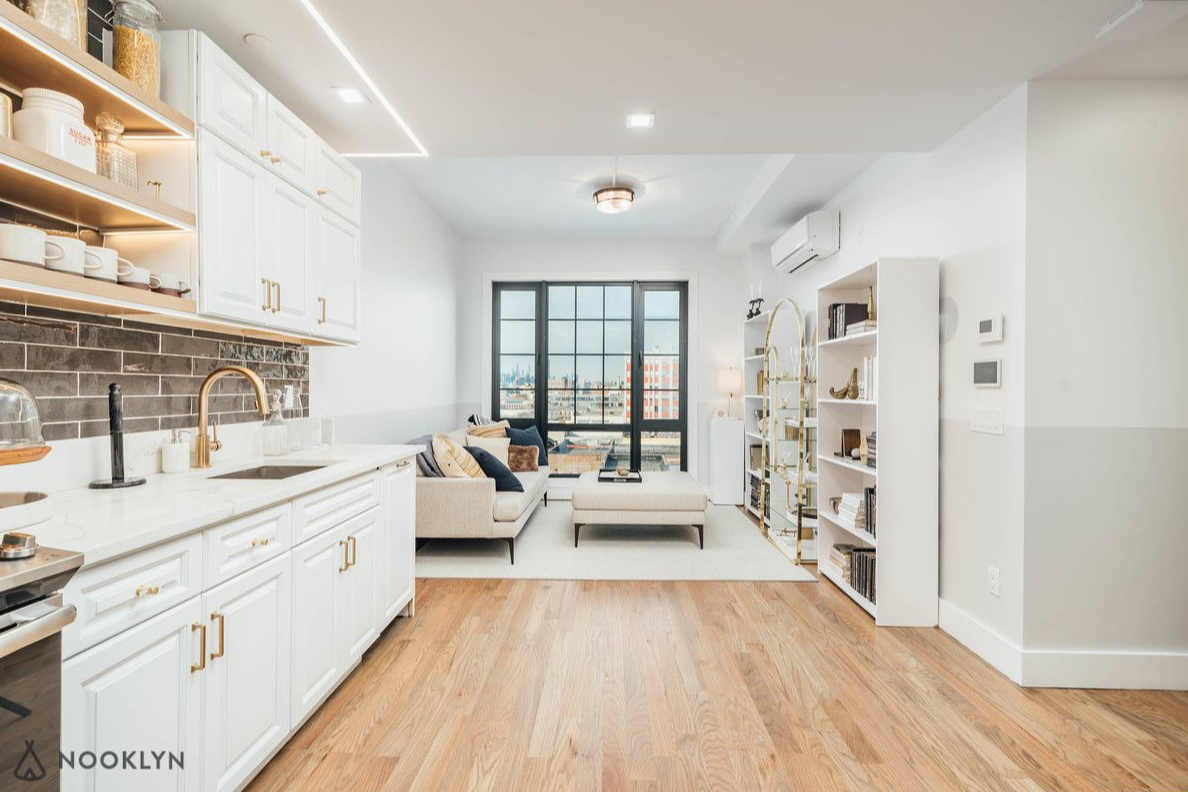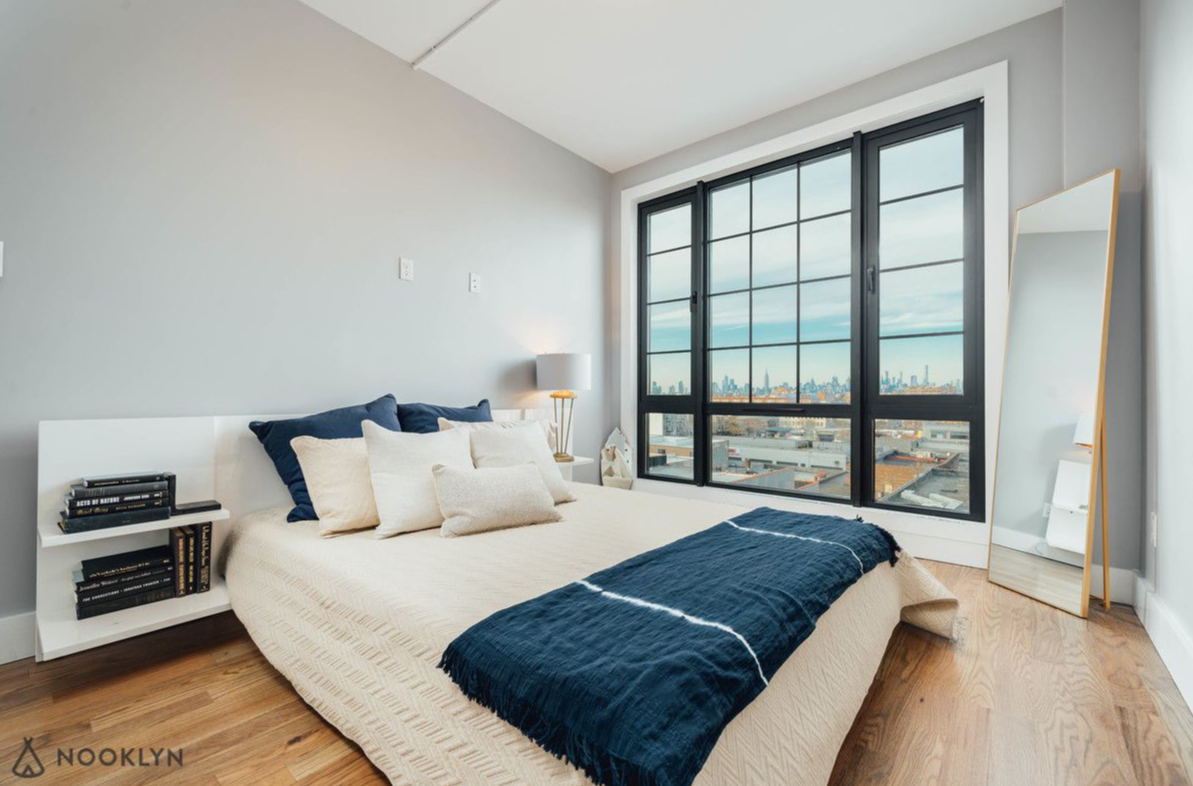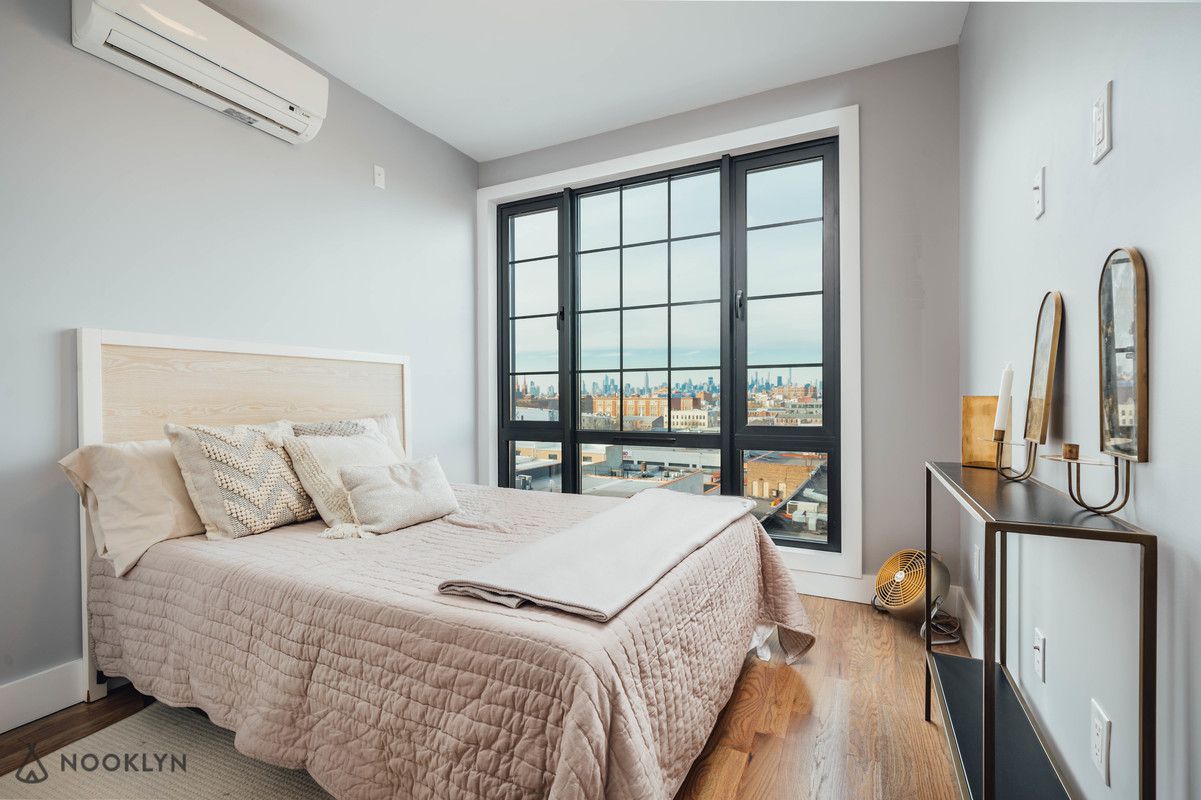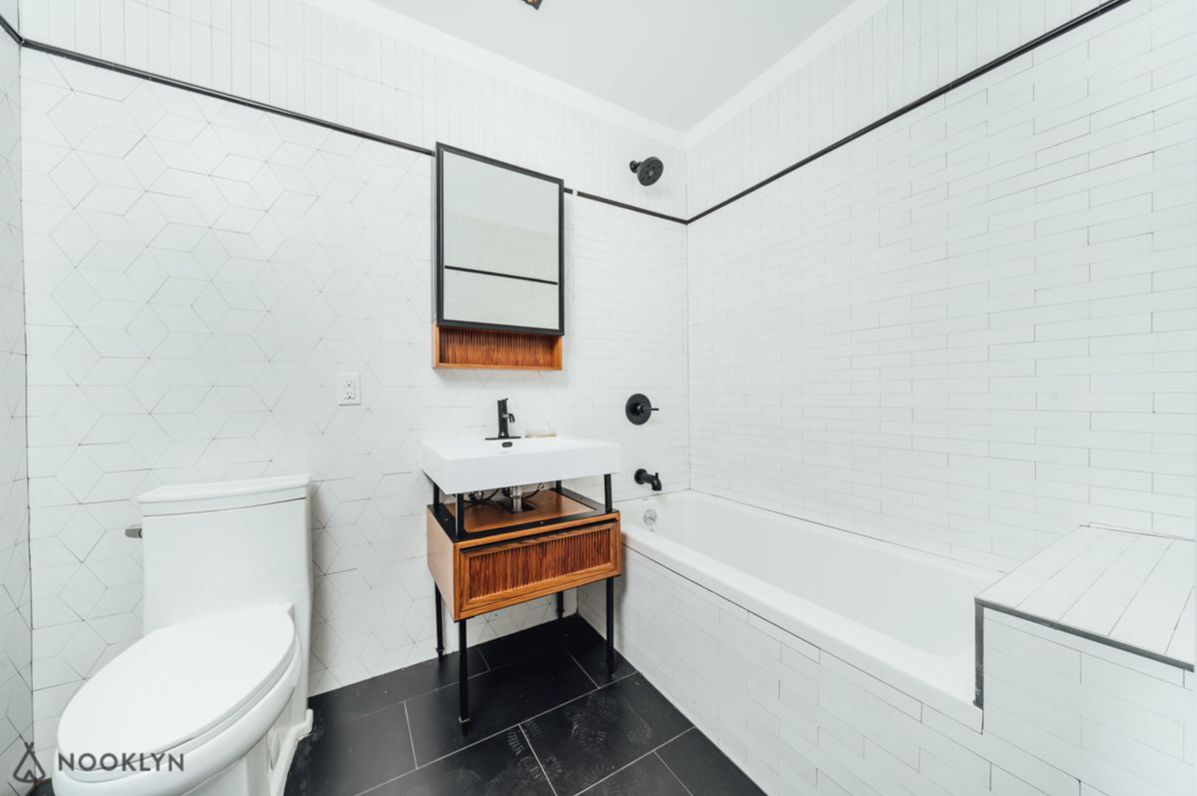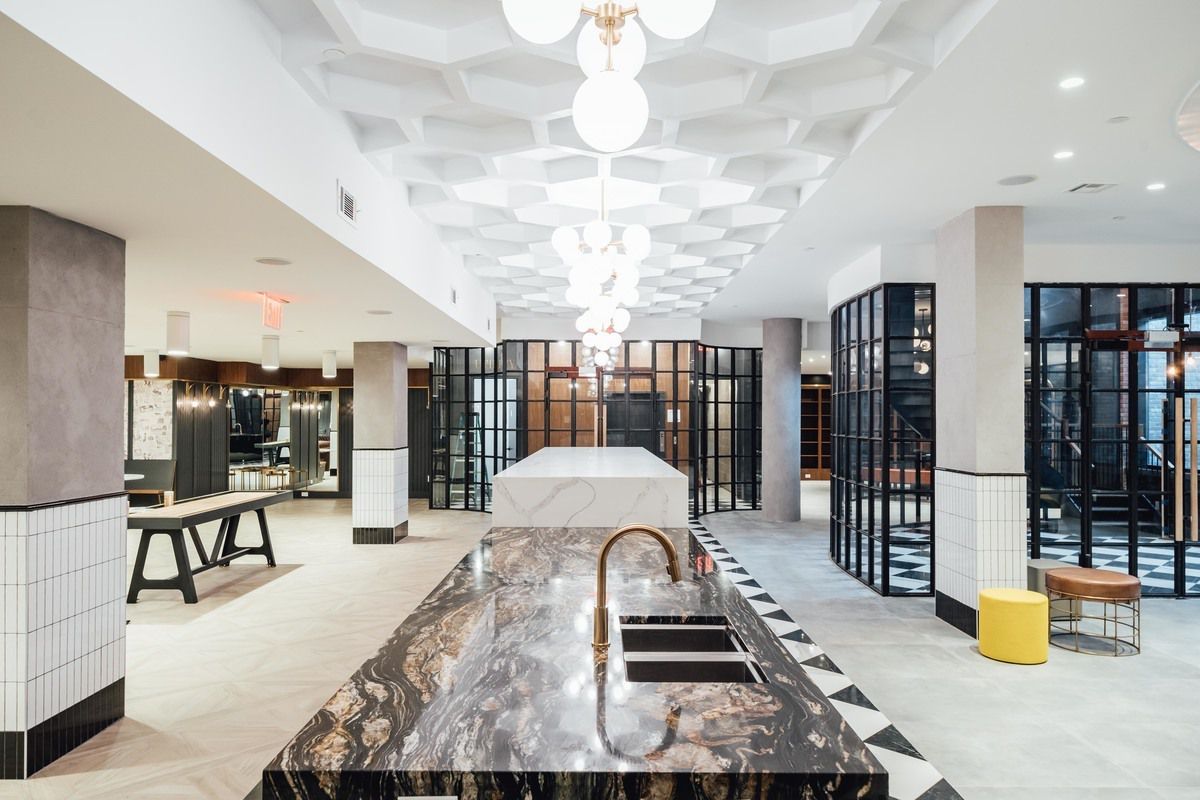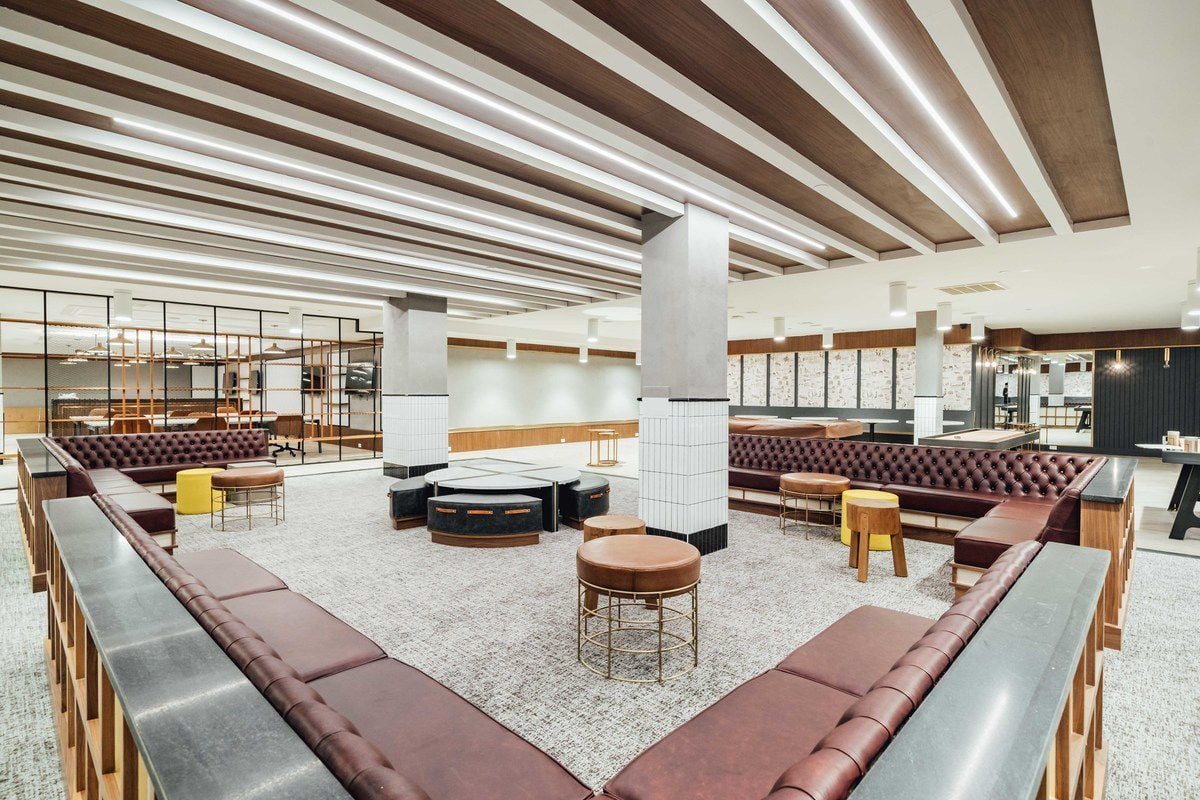 Pros & cons
"With amenities like these and a roof deck that's as gorgeous as it gets, no doubt you'll be the friend everyone wants to visit. Trouble is this glam two-bedroom is a little bit off the MTA grid thanks to its location—keep in mind that a seven minute walk to the M and J will be in your future on even the coldest winter day. My other issue with this place is that darn one bath situation which makes it very tough for a two-person share, unless you know each other very well." —Lambeth Hochwald
"The design team did a gorgeous concept here that kept many of the original details but also created an evocative, atmospheric space that feels true to its history and neighborhood while also feeling entirely contemporary. It's rare to find a building this deep in Brooklyn that could make people living in the Village or Tribeca envious, but here you go. 
"The only drawback here—and its one of personal preference—is that all those smart home features end up making this place a data goldmine. Alexa everywhere feels a bit too HAL from '2001: A Space Odyssey' for my tastes." —Constantine Valhouli 
"I don't think the term 'swank' does this place justice. I love all the details, even the ceilings are impressive—is that a barrel vault above the common area? The common areas for lounging, co-working, and caffeinating are perfectly plugged into how we live today. But my concerns are that a building like this is a bubble disconnected from the neighborhood. With almost everything you could want right here, is there really any reason to venture out and explore? That's no doubt the point of living in a place loaded with amenities, but it's rather limiting, too." —Jennifer White Karp
Whom it's perfect for
"An artsy couple with fab day jobs—this place is pricey." —Hochwald
"You're in a band, but the band has been signed. Or maybe you work in finance, but used to be in a band. Or, you are being paid actual money in an actual job to manage bands, and want to be close to the action but away from the Bushwick bedbugs." —Valhouli
"Roommates with cash to spend who like to be able to say they're renting in Bushwick but not deal with any living situations that are remotely gritty. Also, people who are new to NYC and want the comfort of being able to socialize in their buildings, which is a foreign concept for a lot of long-time New Yorkers." —White Karp 
Take it or leave it
LEAVE IT. "Surely you can find a less expensive pad with similar amenities that's closer to the action (and the subway)." —Hochwald
TAKE IT. "Duh." —Valhouli
TAKE IT. "If you can swing this rent, why not? But with the caveat that you should get out and check out your neighborhood and spend your cash at neighborhood restaurants and mom-and-pop shops. Be a part of where you live, and everyone benefits." —Jennifer White Karp