Co-living is having a moment in New York. At least 10 co-living companies have set up shop in the city in the past few years. The concept is pretty simple, and not necessarily new. Detractors like to refer to co-living spaces as adult dorms, and there's some truth there. The details vary, but on a basic level, co-living is living with strangers. However, instead of all piling onto one lease after meeting through Craigslist, you are only responsible for your room. (Exactly how legal all of this is in New York City is another question for another article.)
Co-living startups have been renting rooms in the city since at least 2012, but the number of providers has now exploded, and the increasingly competitive market means operators are offering more flexibility and different sorts of deals to stick out from the pack. 
---
[Editor's note: An earlier version of this post was published in August 2018. We are presenting it again here as part of our winter Best of Brick week.]
---
New York is hardly being overrun with hippie colonies, though. The co-living model is geared more towards convenience than kumbaya, with task such as bill management, house-cleaning, and even happy hours included as part of the rent package. The offerings can roughly be sorted into three categories: full-service/large scale, boutique, and budget. For obvious reasons, the industry is courting millennials, and that generation's tech incubators are influencing this new take on roommate living. For example, Common, one of the big co-living companies, is founded by Brad Hargreaves, who previously created the computer education hub General Assembly.
As anyone who has endured finding an apartment and/or roommates in New York City can tell you, the process can be one headache after another. Co-living seeks to eliminate some of the common hurdles, while charging a premium for individual rooms. Most significantly for some new renters, some co-living spaces do not have stringent income requirements or require guarantors. Co-living also removes the politics and annoyance of splitting bills, keeping common spaces clean, and furnishing an apartment. Many will also ensure there are always basic staples on hand, like salt and pepper, olive oil, and paper towels. Everything is typically included in the monthly rent. Some co-living buildings also try to offer residents a pop-up social life, providing events and outings so newcomers and the interpersonally lazy can meet people without too much effort.
Many a new-school-SRO evangelist will tell you that when you factor in all the costs of day-to-day needs and conveniences, co-living is actually cheaper than conventional renting, but that's obviously subjective and up for debate. The arrangement definitely does offer a flexibility that standard rental agreements do not. Some buildings offer minimum stays as short as 30 days, or even a single night, and many allow residents to hop from property to property. Some New York co-living companies have crashed and burned, but plenty have survived, and thrived. Here is our guide to 10 co-living options in New York City, and what each of them has to offer.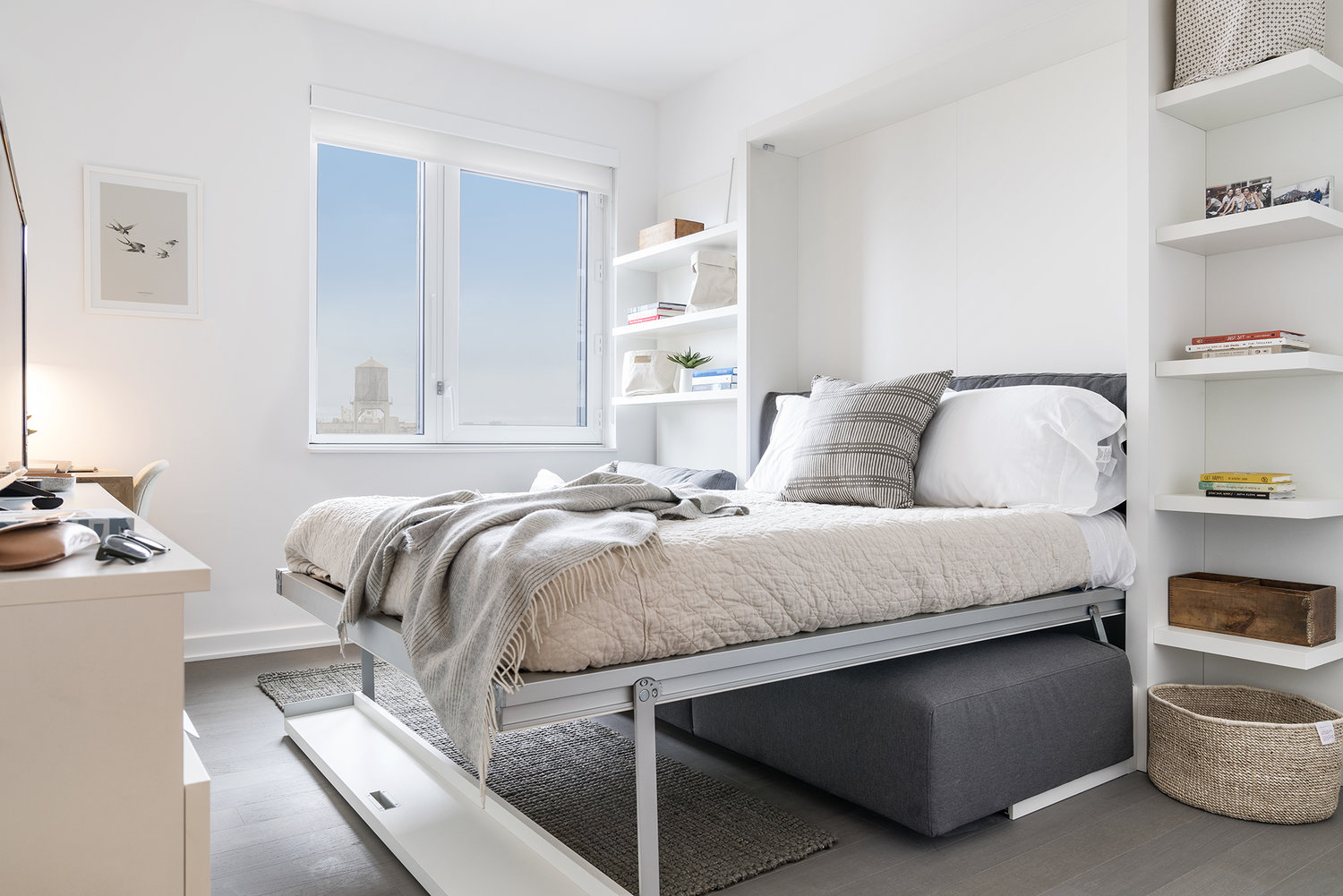 Tagline: "All inclusive co-living"
Cost: $1,260-$2,200 a month. Note that bedrooms are technically not rented individually, so the rent is a person's portion of the full apartment rent. Electricity and gas are not included. A company spokesperson says that including these utilities could "unintentionally make residents less mindful of their usage, which in turn would promote waste."
Aesthetic: New condo
Personal space: There are studios and bedrooms in larger apartments, and all units are furnished with high-end, transformable furniture. Renters get a quilt from West Elm, two pillows, a storage bin from Pehr, and a scent kit from @aroma. Residents get the benefit of weekly housekeeping, towel and linen service, premium TV programming, and wifi.
Minimum stay: One year. When possible, the company tries to offer shorter-term leases at its projects. 
Who's there: A mix of ages and demographics, weighted toward millennials. But 20 percent of its inquiries are from baby boomers, according to the company.
"Co" factor: In addition to ongoing events organized by an in-house community manager (Sunday brunch, sunset yoga, etc.) and social excursions in and around New York, residents of Alta+ can use a gym, an indoor lap pool, indoor and outdoor lounges, barbecue areas, an event space, a co-working lounge, a game hall, and more.
How people are vetted: The company says it vets the same way standard landlords do: with criminal background checks, and credit and income qualifications. Residents can use Bedvetter, the company's roommate matching platform (which it developed), to match themselves with other roommates if they like.
The name "Ollie" is a play on "all-inclusive," and refers to the hotel-style services residents receive. The company says its focus is on scalability and affordability.
Alta+ Ollie in Long Island City is the company's newest venture and opens this spring. It includes 169 micro-suites (495-941 square feet) with two and three bedrooms, and 297 standard apartments ranging from studios to three-bedrooms. The company also operates Ollie Carmel Place in Kips Bay (opened in 2016), and a Downtown Brooklyn location is opening in fall if 2018. You'll also find Ollie in Pittsburgh, and projects in Los Angeles, Boston, and Denver are in the works.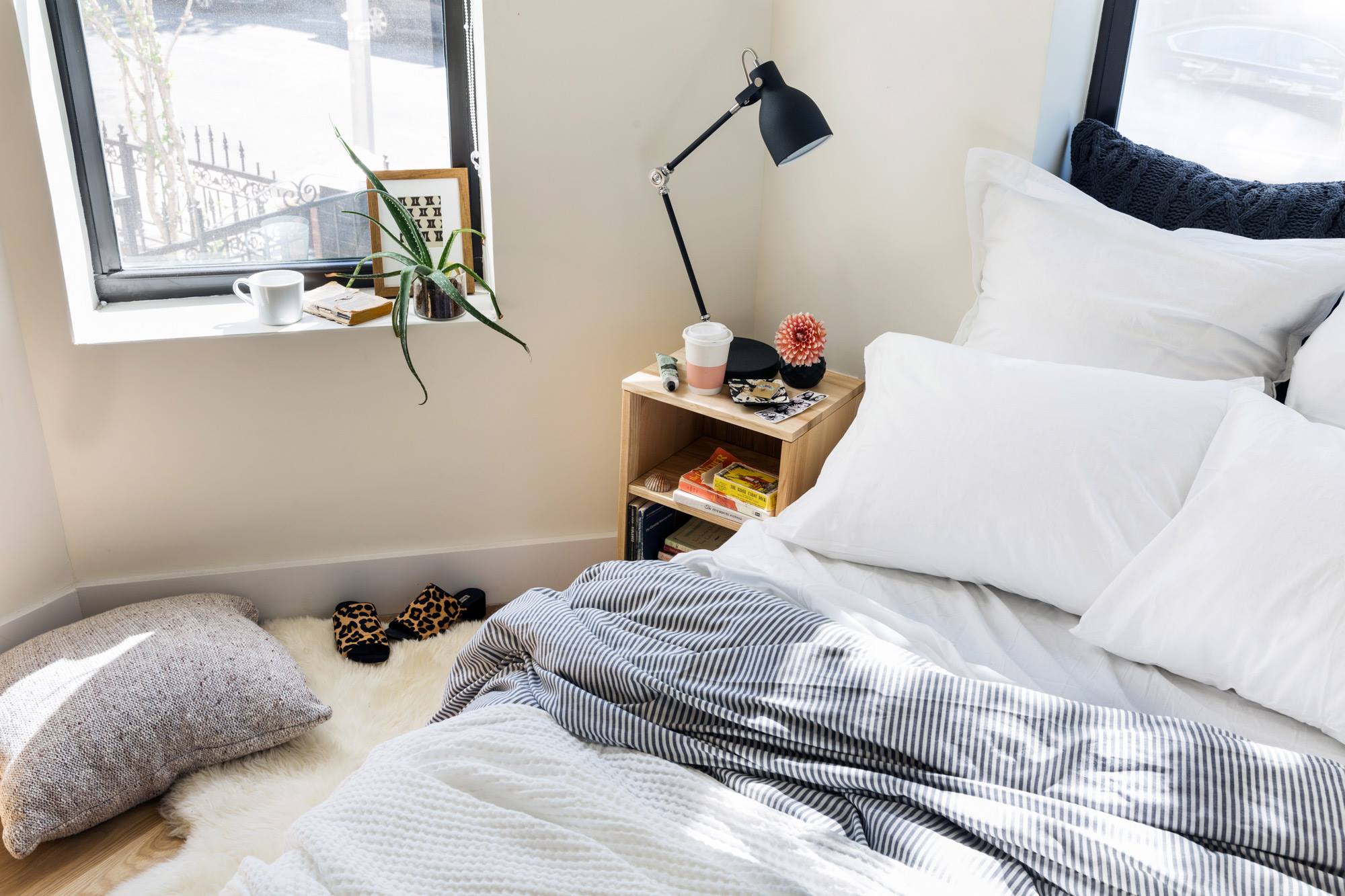 Tagline: "Co-living is city living made better"
Cost: The lowest rate we found was $1,340 for a bedroom in the company's Albany building, located in Crown Heights.
Aesthetic: Mid-century/Shaker
Personal space: Residents get a room with a bed, a nightstand, a lamp,  and pillows, as well as a bare hook for art of their choosing. Rent includes utilities, cable, a washer/dryer, weekly common space cleaning, wifi, and basic supplies such as paper towels, salt, and olive oil. The company is open to residents moving between buildings.
Minimum stay: Varies by building and city. Most tenants are on six-month or year-long leases.
Who's there: Common's website says, "Our community in New York is just as diverse as their city is." We find that somewhat hard to believe (New York is pretty diverse!) but Common does say that you'll find recent college grads as well as established professionals and married couples.
"Co" factor: Common does organize events, but it also lets residents take the lead with ideas, and helps fund outings they come up with. Residents of all Common buildings nationwide can communicate via Slack. Overall, Common seems to be more interested in fostering community than playing cruise director. Living room spaces are furnished with items from West Elm and Restoration Hardware. Some buildings have outdoor common space as well.
How people are vetted: Applicants apply online and must pass financial and background checks. Prospective members are then briefly interviewed by phone.
Founded in 2015, Common operates 10 co-living spaces in New York City, in Crown Heights, Williamsburg, Boerum Hill, and Ridgewood. The company also has buildings in San Francisco, Washington, D.C., and Chicago.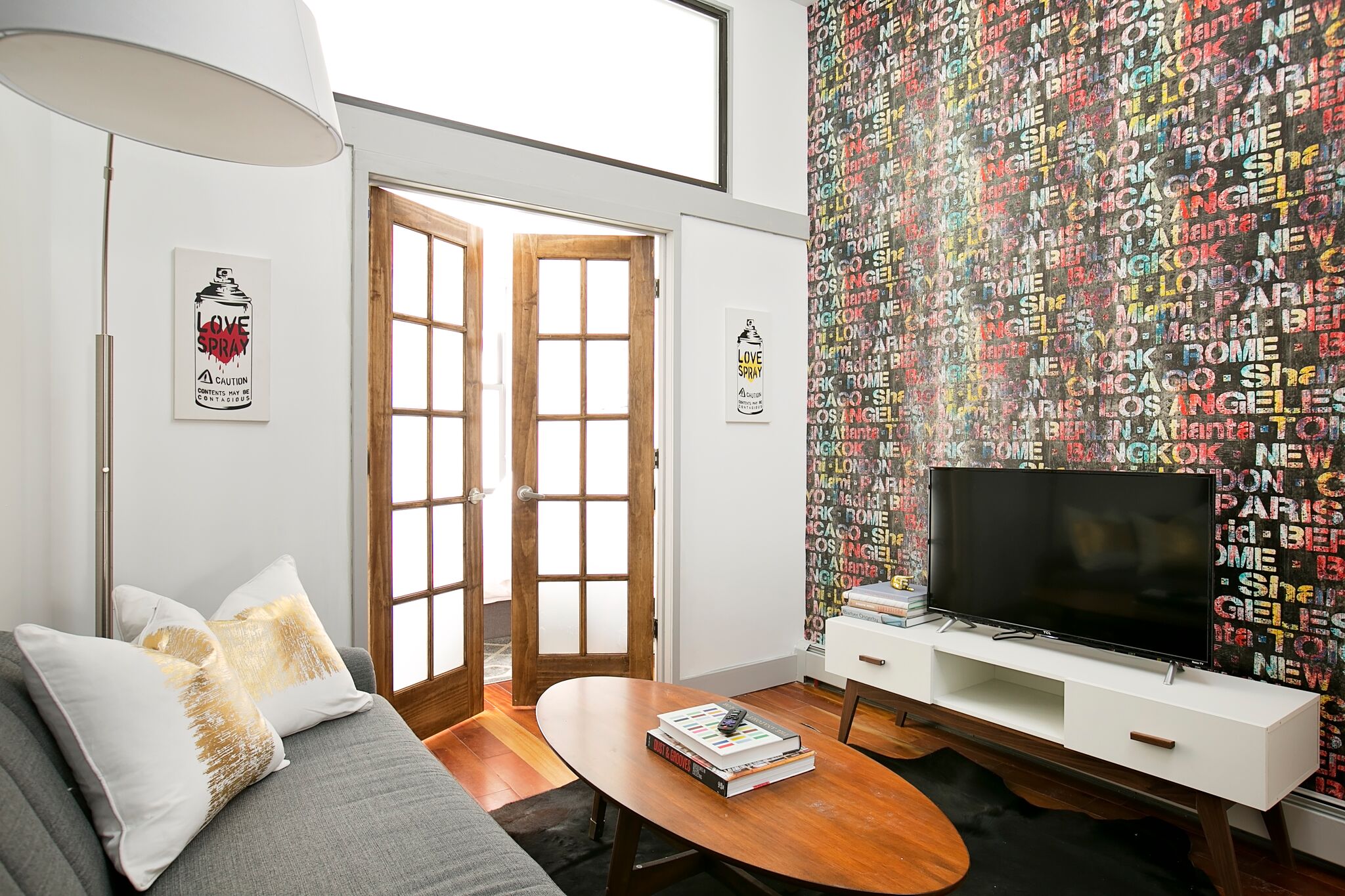 Tagline: "All that you need is right at home"
Cost: Rents range from $1,150 to $1,950 a month. Average rent is $1,500 a month. Wifi, utilities, bed linens, kitchen utensils, and housekeeping are included, and most units have washers and dryers and dishwashers.
Aesthetic: Elevated IKEA
Personal space: Residents get a furnished room in a two-, three-, or four-bedroom apartment
Minimum stay: Three months
Who's there: Young people (ages 19-30) from all over
"Co" factor: Roomrs provides an internal social network and organizes events for residents.
How people are vetted: Potential residents are pre-screened to determine if they're a good fit for the community, and standard credit and background checks are also run. Individuals are paired with a community associate to match them with an apartment and roommates. These associates are a resident's point of contact throughout their stay at Roomrs, and are also in charge of organizing social events.
Roomrs was founded last year by CEO Or Goldschmidt after he spent several years of working in New York real estate. Believing millennials aren't suited to the renting process, Goldschmidt set out to create an alternative that's less confusing and offers an easy way for newcomers to meet people. Roomrs apartments can be found on the Upper East Side and in Morningside Heights, Harlem, Williamsburg, and Bushwick. Soho and Midtown apartments are coming soon.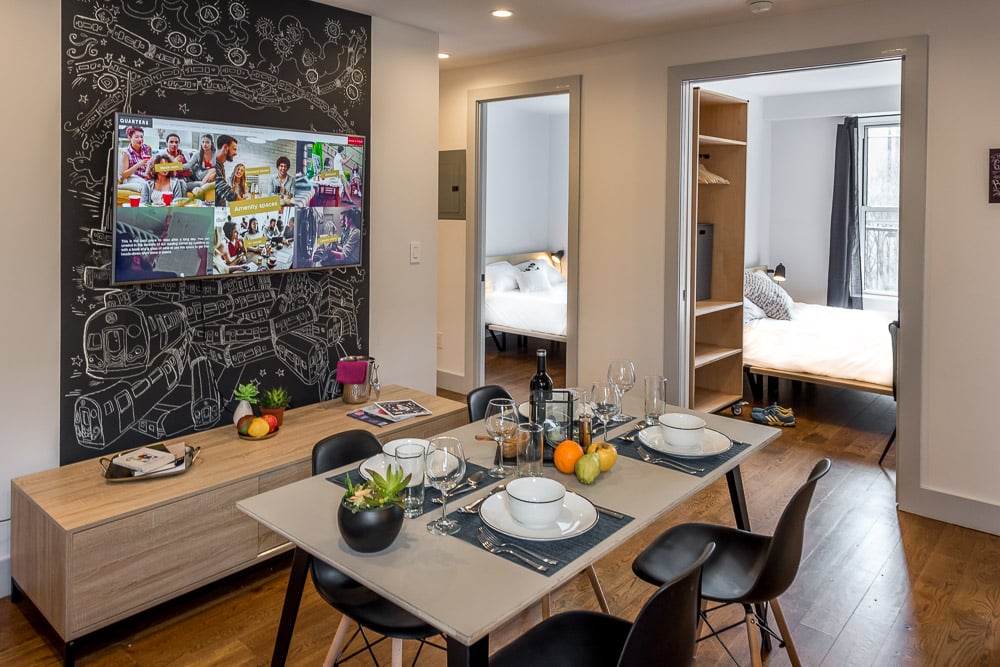 Tagline: "We are Easy Living"
Cost: Rooms start at $1,750 and include internet, electricity, heat, cable and Netflix, and laundry. Buildings also have features such as bike storage and grills.
Aesthetic: Minimalist, utilitarian
Personal space: The apartments are furnished and include Casper mattresses, sheets and pillows, and high-end appliances. Built-in gadgetry allows keyless entry to the apartments and rooms, and renters can operate doors, light, heat, and blinds through an app.
Who's there: "International young professionals, digital nomads, and millennials" between the ages of 25 and 35 who "love the urban way of living."
"Co" factor: Members can take part in weekly events and additional networking and entertainment opportunities. A communal kitchen and living room area is outfitted with a large table and a TV, and there are communal work areas.
How people are vetted: Prospective residents fill out an application, and community managers give tours.
This German company arrived in New York in 2017, opening a location on the Lower East Side. Quarters started renting at an East Village location in March 2018. The company also has apartments in The Netherlands and Chicago, and plans to expand throughout Europe and the U.S. over the next two years. With more than 1,700 beds, the company claims to be the largest co-living provider in the world.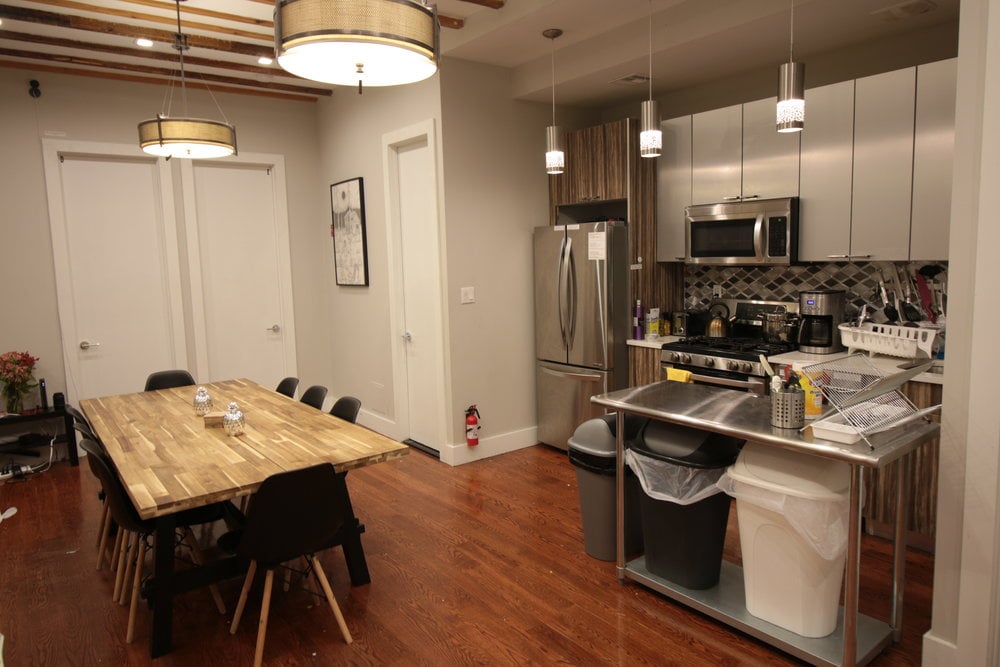 Tagline: "Easy move-in. Easy Living."
Cost: Rates range from $690 to $2,190, depending on the length of stay, type of room, and availability.
Aesthetic: Hostel that makes an effort
Personal space: If you want, you don't have to have any. Sharing a room with someone, college dorm-style, is a possibility here. Beyond that, both shares and single-person bedrooms are set up with pillows and sheets, towels, and extension cords.
Minimum stay: One month
Who's there: Residents are between the ages of 21 and 35, and the split is about 50/50 between citizens and non-citizens, the company says. It's a mix of students and professionals, with professionals purportedly making up the majority.
"Co" factor: Outpost Club doesn't offer events.
How people are vetted: Interested residents fill out an extensive application.
Another newer kid on the block, Outpost Club was created in 2016 by three Ukrainian expats after they experienced the challenges of finding housing in New York City as international renters. Their complaints included credit checks, background checks, scams, agent commissions, paying first and last month's rent, and more.
"The whole things sucks," says New York account manager Jacob Shapiro.
Outpost Club is a little less slick than its competitors. The company is now operating in Williamsburg, Bushwick, Bedford-Stuyvesant, Ridgewood, and Flatbush, and other locations are in the works.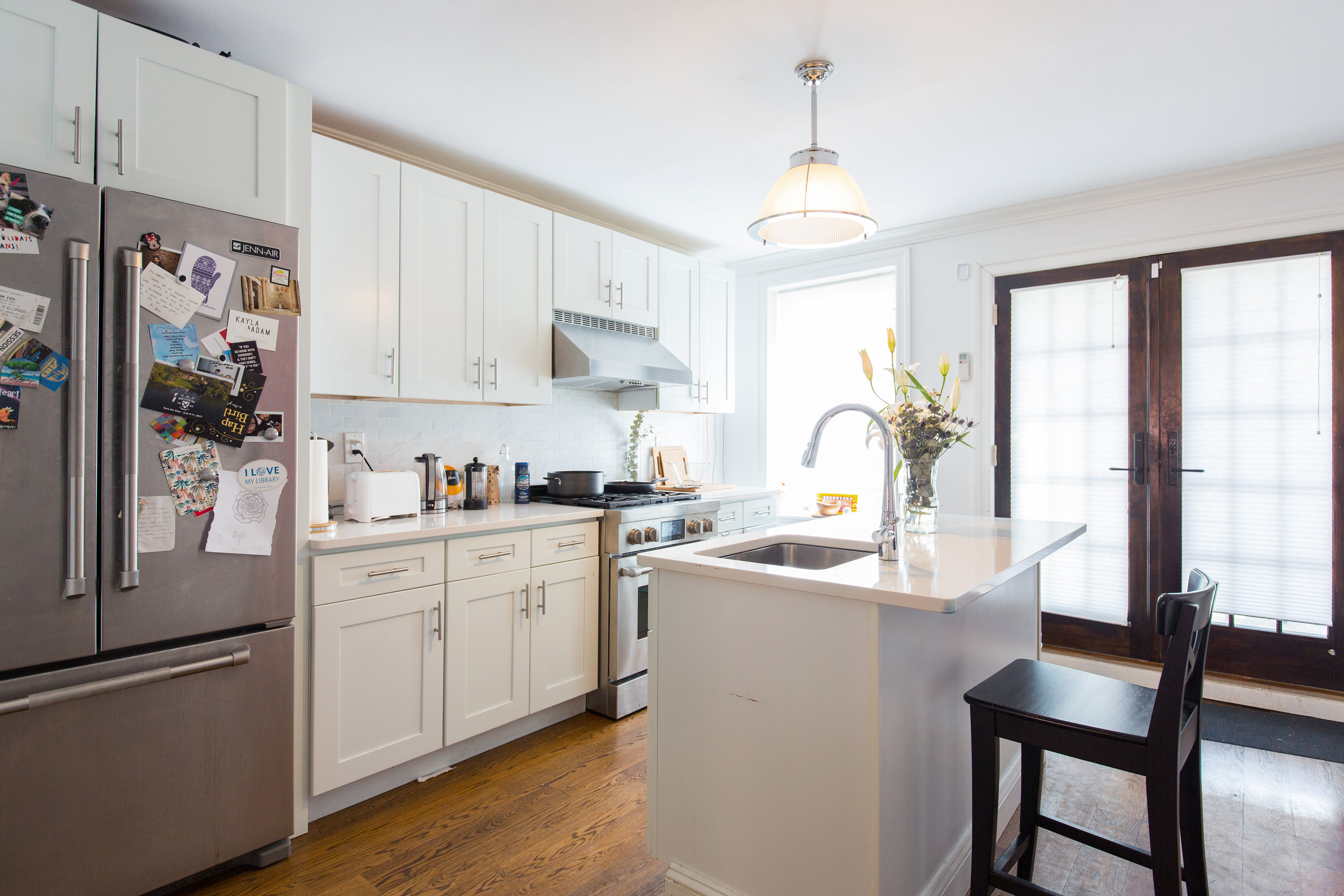 Tagline: "Comfortable homes for community living" and "Don't just live—Live Dwell."
Cost: Rooms start at $1,350. The company offers flexible lease terms and a cleaning service.
Aesthetic: Crown Heights: Homey Brooklyn with a dash of Architectural Digest. Williamsburg: Modern industrial.
Minimum stay: Three months
Personal space: Bedrooms are furnished, and some are big.
Who's there: Artists, entrepreneurs, recent college grads, and working stiffs.
"Co" factor: Each building has a live-in house manager who gets input on event planning and what to spend the discretionary budget on. In addition to common living and kitchen spaces, the Crown Heights building has a large backyard and stoop, and the Williamsburg one offers a roof deck.
How people are vetted: In keeping with the idea that residents of a house should have a say in who lives with them, the application process is a little more personal and involved. Prospective residents write a few paragraphs about why they think they would be a good fit, and then tour the house and meet current residents.
"On-demand booking is great for Uber, but we think that people still want some agency in choosing who to live," says Dwell membership coordinator Noah Avidan.
Dwell currently operates two co-living spaces. The original Dwell co-living space is in a restored brownstone in Crown Heights, and Dwell Withers, which just opened this month, is a two-story place in Williamsburg.
Both are single-family houses, because "we want people to feel like they are living in a home instead of an adult dorm," Avidan says.
Dwell has residents play the most active role of the co-living companies we looked at.  
"Our goal is to create a system where we empower members to feel like they are helping shape the sort of environments they are living in, while at the same time making it easier to live together," Avidan says.
Tagline: "Smart Living for urban dwellers"
Cost: The least expensive location is a Harlem townhouse where rooms start at $1,299 a month. West Village rooms start at $1,799 a month, and Park Slope rooms are $1,499 and up. Residents get wifi, Netflix and HBO access, communal living rooms with 76-inch TVs, a chef's kitchen, laundry, and outdoor space (a roof deck in the Village, and a backyard in Harlem).
Personal space: In the West Village building, rooms have Murphy beds, and some (the pricier ones) have a desk and a marble mantel. Residenz limits residents of the smaller rooms to eight overnight guests per month, whereas residents of the larger ones get "unlimited" guests. This is the only co-living space we found with rules like this. Uptown, you also find Murphy beds in the smaller rooms, and desks fold down from the wall. These rooms are pretty spartan. Residenz provides linen service, reading lamps,safes, and Amazon Echos at both locations.
Aesthetic: Inconsistent. The West Village townhouse looks warm and inviting, whereas the Harlem townhouse has a first-apartment-after-college feel, and the smallest rooms look cramped and institutional.
Minimum stay: 30 days
Who's there: A New York University medical student, a doctor, and an entrepreneur, according to the company website.
"Co" factor: Residenz says it carefully matches roommates, and there is a community manager on site, but they're "not going to force you to have fun." Ongoing "low-key" events include free Sunday brunch, welcome parties for new arrivals, and movie nights.
How people are vetted: It's not clear, but Residenz's website says you can "apply today and move in tomorrow."
Backed by the global startup network Kairos, Residenz has a third location on the way in Park Slope. Some of the website's copy is in broken English, and roommates are called "hubbies" for some reason.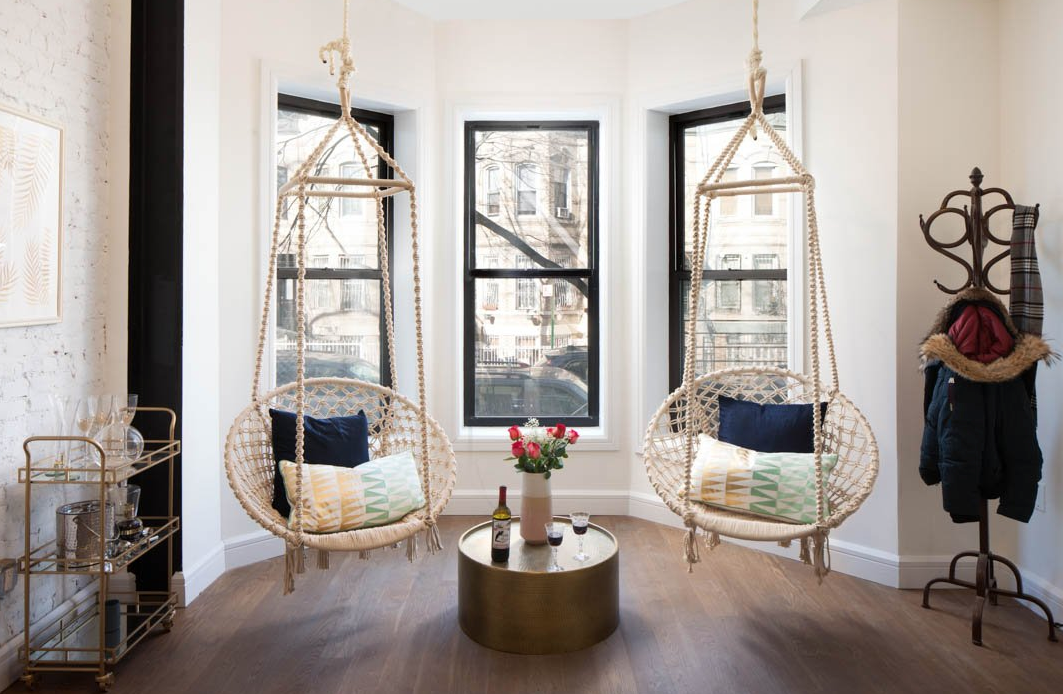 Tagline: "Thoughtfully designed co-living in a global community"
Cost: It's confusing, because you can rent a one bedroom for $2,800 in Weirfield, which doesn't sound like co-living to us, although whoever lives there can partake in Node community events. A three bedroom, three bath in the same building starts at $3,900, with the costs seemingly broken down further once you're placed in a room. Included in the monthly fee is laundry, wifi, smart-home features, and access to outdoor space with a grill and a fire pit.
Aesthetic: Sophisticated and chic.
Personal space: The apartments are furnished, and from the application it sounds like you can rent a room and be matched with other people, or come in with a group of preselected roommates.
Who's there: "globally minded, creative people who want to connect with residents, both locally and globally"?
"Co" factor: Node has a "resident curator" for every city who is supposed to plan events for tenants. The curator also provides volunteering opportunities.
How people are vetted: Unclear
Minimum stay: Some apartments are available for six months. Most leases are for a year.
Founded in England, Node currently has three renovated townhouses in Bushwick. The company also has spaces in Los Angeles, Dublin, London, and Manchester, with Toronto and Seattle coming soon.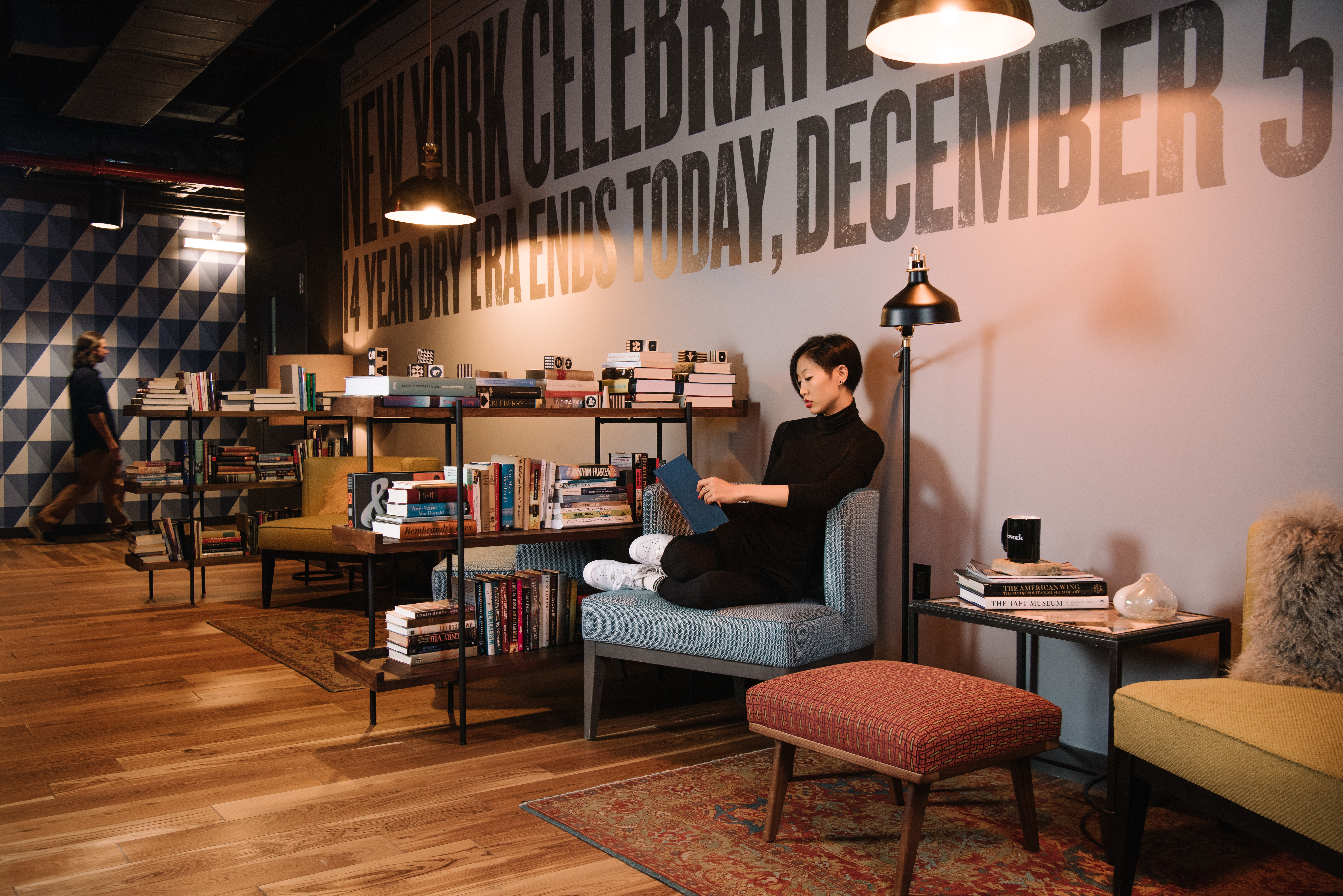 Tagline: "Love Your Life"
Cost: Studios start at $3,050, and tenants get access to a stocked kitchen, towels and bedding, wall-mounted, flat-screen TVs, monthly cleanings, a front desk to receive mail and packages, and an on-site community manager.
Aesthetic: Stylish college campus
Personal space: WeLive offers furnished studios, and rooms in three-plus bedroom apartments, which are minimalist, with a dorm-like feel. The visible effort is focused on the common spaces, which are decked out in oversized art, velvet chairs, fuzzy pillows, and a mishmash of mid-century and industrial accents.
Minimum stay: One month, although WeLive Wall Street does let you book a night at a time.
Who's there?: WeLive describes its appeal as broad, with members including the expected young professionals new to the city as well as new parents with small children, workers who want to cut down on their commute, retirees, and empty nesters.
"Co" factor: WeLive offers lounges and a bar, plus regularly scheduled events and mixers, and residents can message each other on the WeLive mobile app. Gatherings include happy hours, cooking classes, and health and fitness classes. There is also a laundry/arcade room, reading lounges, media lounges equipped with Apple TV, premium cable, an exercise and screening room, and fully stocked communal kitchens with brewed coffee, tea, and citrus-y water.
How people are vetted: Prospective members fill out an application and set up a tour. WeLive runs credit and criminal background checks on all applicants.
An offshoot of the well known co-working company WeWork, WeLive opened its first location in the spring of 2016 at 110 Wall St. It also runs a location in Crystal City, Virginia, and a Seattle space will open in 2020. 
A company spokesperson says, "WeLive is intentionally designed to allow members the opportunity to connect, interact, relax and recharge."
For some, WeLive can offer the shortest commute possible—there's a WeWork office facility in the same building as the WeLive on Wall Street. To its credit, the company does not recommend this arrangement.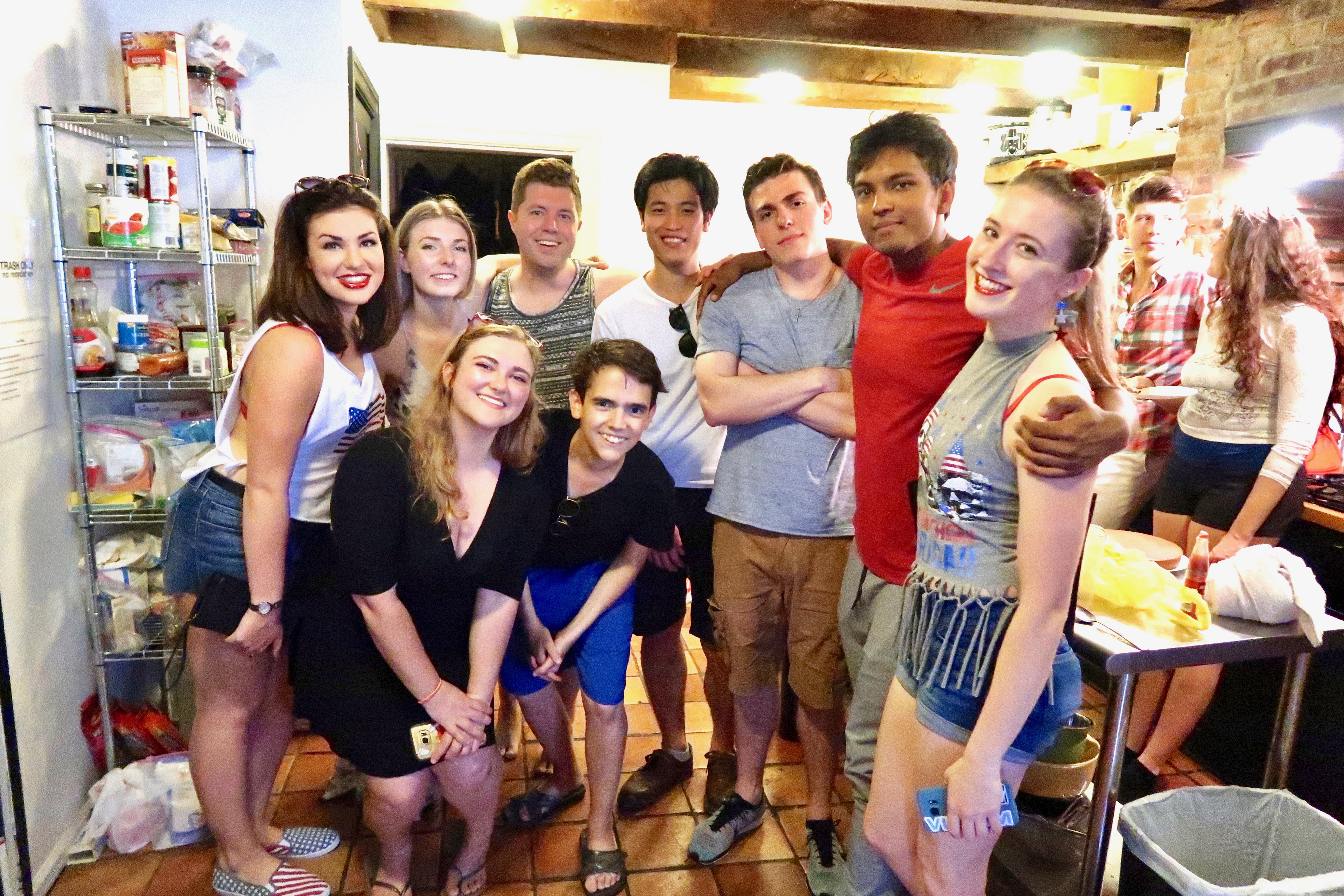 Tagline: "Who do you want to live your life with?"
Cost: Private rooms start at $1,150 a month, with utilities, wifi, Netflix, Hulu, HBO, laundry detergent, and cleaning included.
Aesthetic: Basic starter apartment
Personal Space: Bedrooms come with a bed, pillows, sheets, and hangers.
Minimum stay: Two months
Who's there? Artists, professionals, and entrepreneurs
"Co" factor: Each residence house has a designated house leader, and weekly dinners. If you're not feeling the group emphasis, Tribe is probably not the place for you. 
How are people vetted? Candidates submit a written application, which is followed by a phone or Skype interview. 
"Our product is much more than just housing," says Tribe president Ben Smith. "The most benefit comes from meaningfully connecting with others in our communities, so we make sure that everyone is carefully vetted before moving in."
Started in 2015 and previously known as Founders House, Tribe operates co-living spaces in Bedford-Stuyvesant, Boerum Hill, Bushwick, Ditmas Park, Prospect Lefferts Gardens, and Williamsburg, and recently expanded to San Francisco. The company changed its name, because as it grew, people who weren't launching a tech company wanted in. Still, the company is rooted in the startup incubator concept.
"As a society, we've come to understand that the people you know and surround yourself with have a significant impact on both your happiness and success in life. Our company helps people find others to live their life with—a 'tribe' to support and help them succeed," Smith says. "We believe that the best way to form meaningful connections is by living with others, so we help match people into the perfect living community for them."