Brick Underground supports our readers with product recommendations specifically curated for New Yorkers. If you buy something through our links, we may earn an affiliate commission.
Architect Carl Shenton of Brooklyn's Shenton Architects loves the amount of light streaming into this Hamilton Heights one bedroom, 409 Edgecombe Ave., #4C, thanks to its large windows and multiple exposures. But that—and its affordable $375,000 price tag—are pretty much the only thing he likes about the place.
He absolutely despises the rundown kitchen, with its motley assortment of cabinets and dated appliances, and the fact that it's so closed off from the rest of the apartment. He also assumes that he would hate the bathroom. The listing doesn't include any images of it.
"When realtors don't show photographs, it's usually really bad news," he says.
In this week's Reno Ready, Shenton describes his plans for updating this 100-year-old unit, and explains that since that it's an HDFC co-op with income restrictions, the buyer would likely prefer to keep renovation costs down.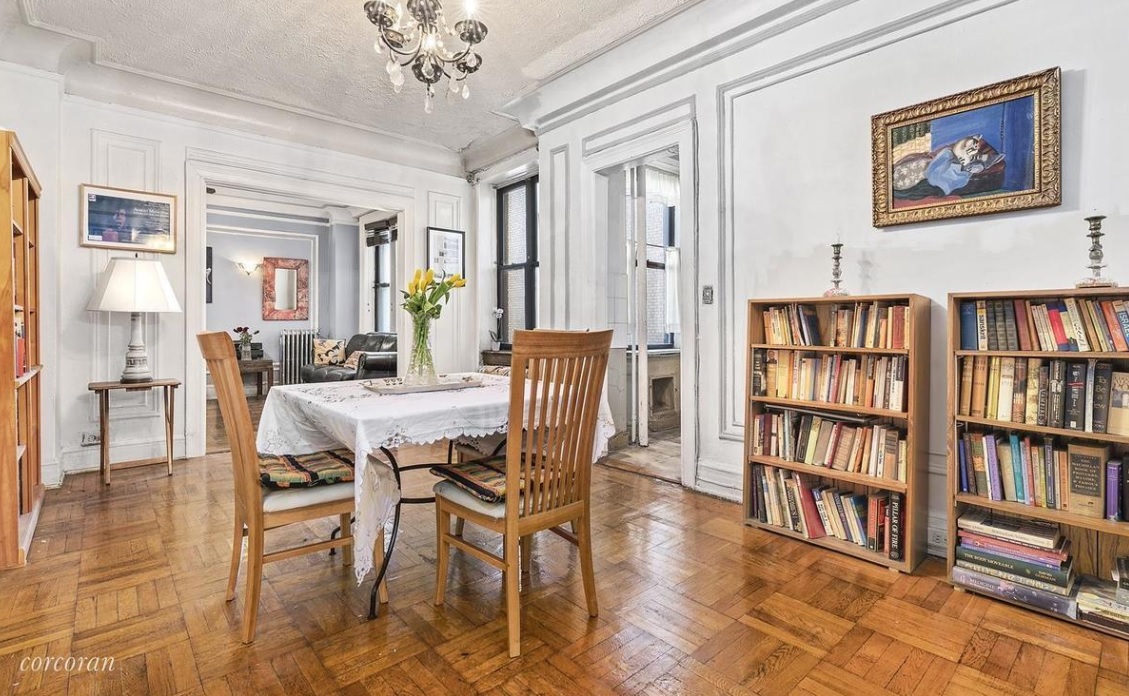 Strip away the paint in the dining area 
Paint: Shenton likes that the apartment has a lot of original details, like the trim, crown moldings, and framed doorways, but "they're in bad shape," he says, noting the "layers and layers of paint" that are caked on them. He also loathes the textured ceiling that he thinks was probably added in the 1970s, when that style was all the rage. In addition, he'd remove the mirrors from the walls as he thinks they're entirely unnecessary.
He recommends sanding and stripping the walls, trims, and moldings to remove all of that bubbly paint, and steaming or scraping the ceiling to do away with the bumpy parts.
He'd then plaster any areas that need plastering and repaint everything with Benjamin Moore's Snowfall White, $75 a gallon, which he believes is a warm, restful white. He'd go with a matte finish on the walls so that it can be cleaned easily, flat on the ceiling so that "it'll be as unreflective as possible," and a satin on the trim so that it stands out.
Doing this throughout the apartment should cost about $14,000.
Flooring: The parquet flooring, which Shenton assumes is original, is yellowed and old, but "generally looks ok," he says, except for the threshold to the kitchen, which is especially tattered.
Shenton suggests sanding it down and refinishing it with a clear coat of water-based polyurethane to "bring out the original quality" of what he believes is a white or red oak. It should cost around $3,600 to fix up the flooring throughout the unit.
Lighting: "That chandelier doesn't look like anything of great quality," Shenton says. He'd replace it with a more modern fixture, like this Equator White Oversized Pendant Light, $199 at CB2, which can provide both up-light and down-light.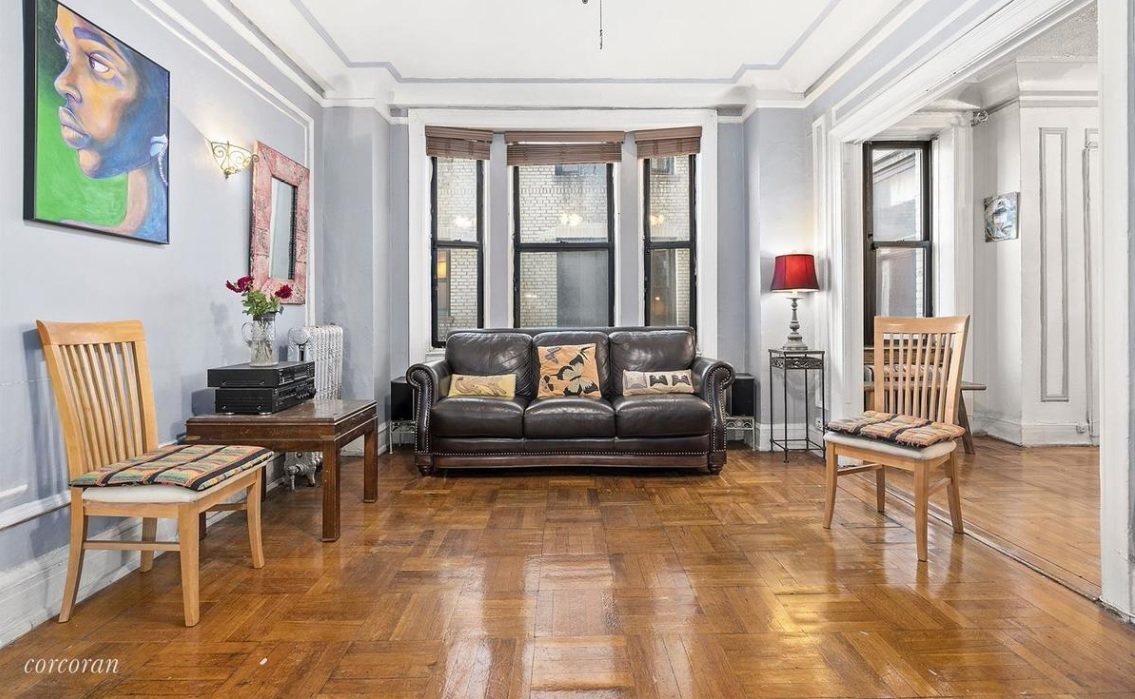 Paint and refinish the floors in the living room
Paint: Since the living room is interlinked with the dining room, Shenton advises first skim-coating the walls and then painting them the same shade of white as the dining room.
Floor: Because the same flooring is in here, too, he'd have it sanded and refinished, as well.
Radiator: Shenton proposes spending a little bit of money to spruce up this radiator and make it look a lot less unsightly. He'd have it brushed down with a wire brush to clean it up and then spray-painted either white to match the walls and blend in or gunmetal gray so it stands out and becomes a statement piece. This entire process should cost around $500 per radiator. "It sounds like a lot of money, but in my experience, it'll be more expensive to buy a new radiator with this kind of character," he says.
Windows: The windows themselves look fine, so he'd keep them, but he doesn't like how sloppily painted the trim is. He'd have that cleaned up and repainted.
Shades: As for the window treatments, he'd opt for simple roller shades that all but disappear when they're rolled up. Prices for light-filtering roller shades start at $210 at The Shade Store.
For those who'd prefer something softer—but that would add character—he'd choose colorful drapes made from a light fabric. These Emery Linen Poletop Drapes are $129 at Pottery Barn.
Lighting: The photo depicts a cord hanging down from the ceiling, which Shenton surmises is connected to a ceiling fan with some attached lights. He doesn't like down-lights in a living room since they aren't particularly intimate, so he recommends replacing the existing fan light with a fan without lights, and then adding an assortment of floor and table lamps across the space. Prices for this Monte Carlo Maverick II fan start at $625 at The Home Depot. This Big Dipper Arc brushed-nickel floor lamp is $199 at CB2.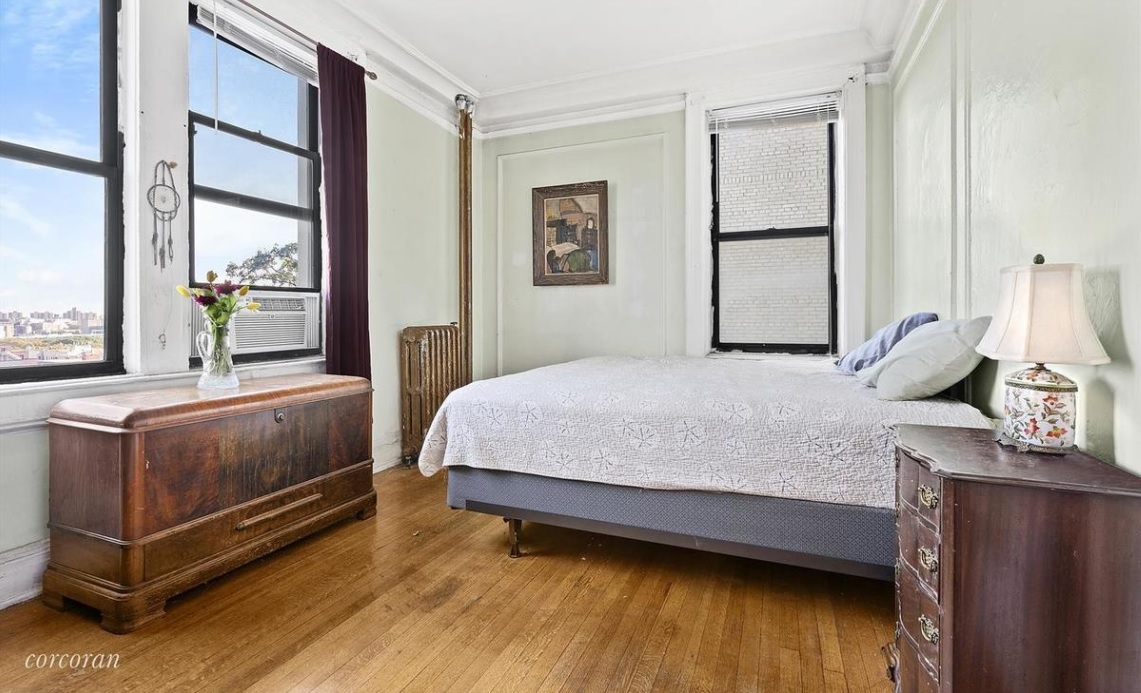 The bedroom probably needs work 
He'd paint the walls the same Snowfall White as the rest of the apartment, and smarten up the radiator using the same color that he does in the living room, so as to keep things looking uniform.
Flooring: There's strip wood flooring in here—unlike the rest of the apartment, which is mostly parquet. But rather than replace it to match everything else, he suggests simply sanding it down and refinishing it. "It looks like the same sort of oak," he says, so it'll probably look similar to the living room color.
Exposed pipes: He'd simply paint them white so that they blend in with the walls.
Closet: Although it isn't shown in the pictures, there's a closet just outside the bedroom (across from the bathroom). Shenton figures it'll probably be pretty rundown—and most likely pretty basic, with a hanging rail and some fixed shelving. He'd overhaul it completely, adding shelving and drawers, and, depending on budget, possibly enlisting the help of a team from California Closets. Updating the closet should cost around $1,500 to $2,000 or so.
Door: Although it isn't depicted in this listing, an older listing for this apartment shows a French door leading from the living room to this bedroom area with tons of glass in it. In order to maximize privacy—since this is a bedroom, after all—Shenton would replace this door with a simple panelized door to match the style of the apartment. A good-quality solid-core door should cost around $1,500.
Shades: Shenton doesn't love the look of blackout roller shades, but understands why some folks might opt for them. If they do, he suggests putting sheer curtains on top of them to "soften" things up. Prices for these Bali cut-to-size vinyl blackout shades start at $19 at The Home Depot. Prices for these Martha Stewart Living sheer curtains start at $16 at The Home Depot.
Lighting: He prefers down-lights in a bedroom to make it easier to see well enough to get dressed in matching clothing in the morning or read a good book at night. He'd recommend four recessed LED down-lights—one in each corner of the room. Installation will be about $1,000.
Take out everything in the kitchen
"Everything has got to go," Shenton says.
Wall: He'd leave most of the walls intact in this apartment, except for the one separating the kitchen from the dining room. This quick demo should "open things right up so the space feels bigger and more a part of the rest of the apartment." This should cost about $3,000.
Cabinets: "The best quality cabinets for an economic kitchen are IKEA cabinets," he says. He'd choose simple white ones that'll match the walls in the apartment—especially important since the kitchen will now be open to the dining room. He'd also add an island with a breakfast bar with some base cabinets in the space where the wall is at the moment. This should all cost around $5,000.  
Countertops/backsplash: He'd go with something "extremely robust," like quartz for the countertops, and then wrap it up the wall to serve as a backsplash. He'd keep things simple with a warm gray. This should be about $4,000.
Floor: Shenton likes the look of wood floors in kitchens. Here, he'd opt for strip wood flooring that'll match the stuff in the bedroom—and not the parquet in the neighboring dining area. "Parquet is lots of little pieces of wood," Shenton says. "You'll get lots of spills in a kitchen. Boards will stand up to that more." The cost for this will be about $800.
Appliances: He'd swap out the dated appliances for more modern pieces, including a free-standing fridge/freezer, which he believes will be more economical than a counter-depth one, a built-in stovetop in the counter, a separate electric oven, and an integrated microwave with a recirculating hood. He'd also add a dishwasher next to the sink covered by an IKEA panel so that it matches the cabinets. A suite of new stainless steel appliances should cost around $4,500.
Door: There's an additional entry door in the back of the kitchen. He assumes that the co-op board won't allow him to close it off completely, so he'd recommend simply cleaning it up and refinishing it, then repainting it with a coat or two of Snowfall White. If, however, the door wasn't there, he would have suggested wrapping the cabinets and counters around the room in order to maximize storage and prep space.
Lighting: Shenton advises dropping the ceiling to install a trio of recessed lights down the center of the room. He'd also add under-cabinet lighting. It should cost $750 or so for the recessed lights. Tape LED lights for under the cabinets should cost about $500.
Sink/faucet: A new sink is definitely in order, as is a new faucet. This Kraus single-basin under-mount kitchen sink is $304 at eFaucets.com. This Grohe Minta pull-down high-arc faucet with two-function locking sprayer is $375 at build.com.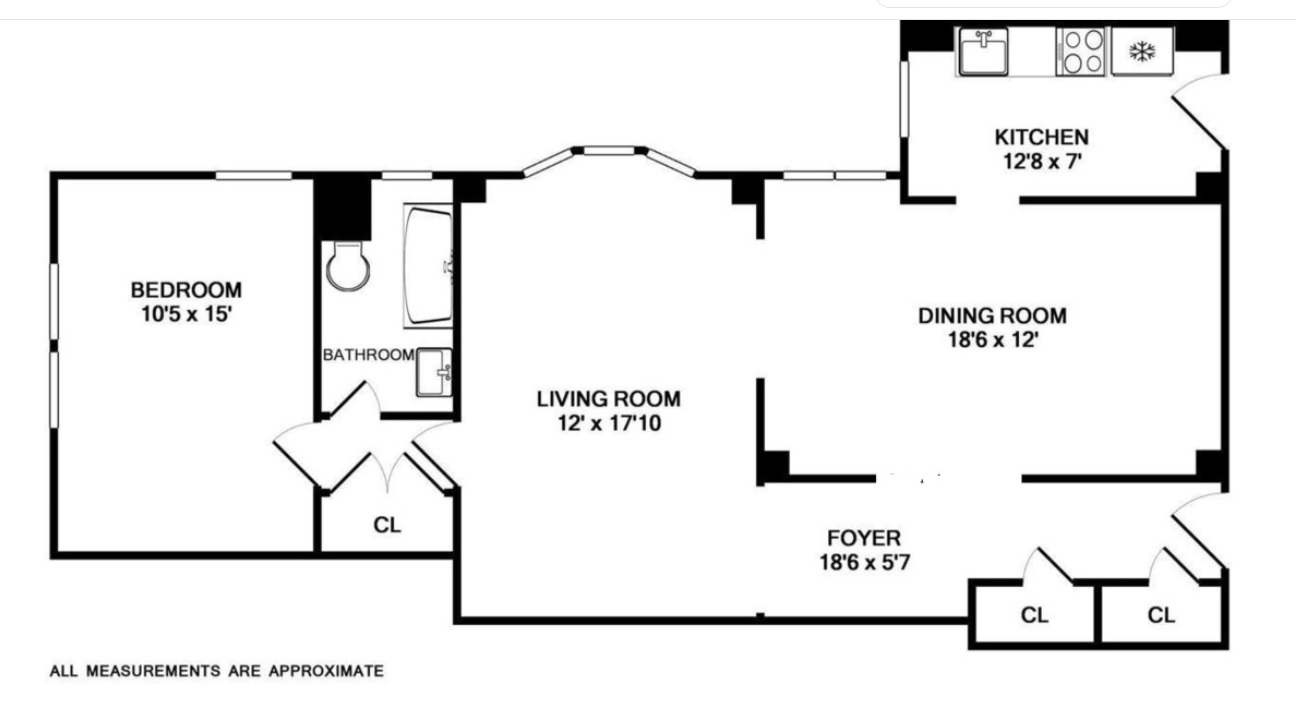 How to fix up a mystery bathroom
Although there aren't any photos of the bathroom, Shenton has lots of ideas for it.
Wall and floor tiles: He'd put new porcelain tiles down on the floor and wall—and go all the way up to the ceiling to keep things tidy. These should be about $4 per square foot.
Tub/sink/toilet: These all need replacing. He'd go with a Duravit tub from its Vero collection, $1,099 at build.com; a Duravit sink, $195, also at build.com; and this Villeroy and Bach Subway two-piece toilet, $371 at AF Supply.
Vanity: Shenton suggests going with a simple piece with a little bit of storage. This Godmorgon sink cabinet with two drawers is $159 at IKEA.
Medicine cabinet: Shenton would get a new medicine cabinet and pocket it into the wall if he can. This Kohler Verdera medicine cabinet is $473.
Lighting: "You want a bathroom to be well-lit," Shenton says. He'd therefore recommend three recessed down-lights in the ceiling. He'd also add two simple linear lights on either side of the medicine cabinet since "you want your face to be well-lit," too.  The down-lights should be about $750. Prices for these basic bath strips start at $245 at YLighting.