If there's anything more deliciously voyeuristic than sniffing around your neighbors' real estate holdings, it's getting an unexpected glimpse into the state of their finances. (Who doesn't want to know how much cash everyone else has in the bank, and where our own finances fall on the spectrum of normalcy?)
And while you can't specifically get a glimpse into your rich new neighbor's checking account, this new interactive map from student loan marketplace LendEDU offers the next best thing, showing you a neighborhood's average income level, credit card debt, student loan debt, mortgage debt, and more. (Note that here, income is represented as "Income Insight W2 score," an income rating that factors in data including income, investment, rent, and debts.) Like so: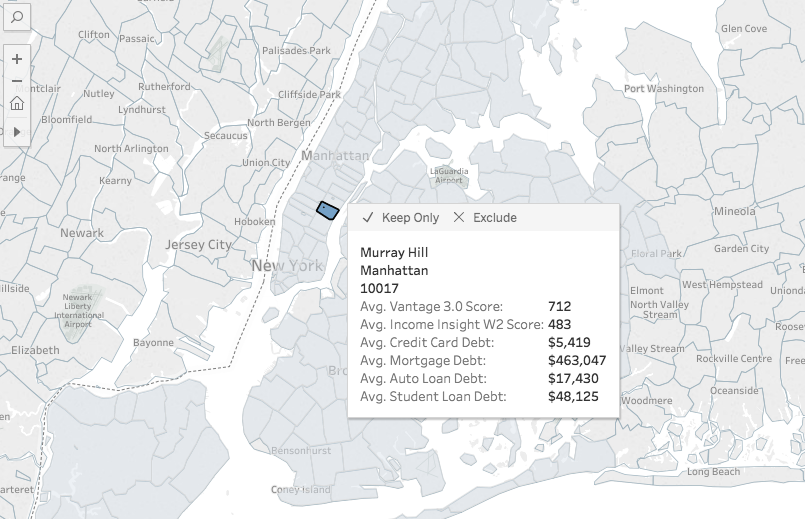 LendEDU licensed the data from Experian, and also compiled lists of the neighborhoods with the highest incomes, highest mortgage balances, highest credit card balances, highest auto loan balances, and highest student loan balances. While the highest-earning neighborhoods won't come as a shock—the Upper West Side, Tribeca, Battery Park, and Lenox Hill topped the list—things get interesting when you start to look at debt levels and credit scores.
For instance, the neighborhoods with the highest credit ratings are all in Queens—Breezy Point, Douglaston, and Clearview—followed by Yorkville in Manhattan. Meanwhile, some of the wealthiest neighborhoods also have the highest credit card balances (Battery Park, the Upper West Side, Tribeca, and Wall Street top the list).
"The neighborhoods with the highest average mortgage balances weren't that suprising—they're all in Manhattan," LendEDU research analyst Mike Brown tells us. (With some of the highest sales prices in the city, it's hardly shocking that residents in Battery Park, Tribeca, and the Upper West Side have sizeable mortgages if they're not buying in all cash.) 
However, Brown points out that the neighborhoods with the highest amount of student loan debt were rather unexpected, with wealthy areas such as Hunters Point, Lenox Hill, the Upper West Side, Yorkville, and Wall Street all carrying heavy balances. "I would have assumed residents in those neighborhoods would have the resources to pay off their loans more quickly," says Brown. "But it could be that more residents in Manhattan, for instance, might be going to a secondary program after undergrad, like law school." (For the Upper West Side that might make sense, given its proximity to Columbia. Or, perhaps the high cost of living in these areas precludes paying off student loans.)
Besides providing a snapshot of a neighborhood's financial standing, says Brown, the data found in the map can be used to suss out how much debt you might be signing up for to live in a neighborhood, and where you fit into the general economic picture. "If you're trying to buy in a neighborhood, you can kind of get an idea of what size mortgage you might be taking on," he tells us. "The same thing goes with student loans or the average credit score—you can see where you stand in relation to other people."
Play around with the map below to see how you compare to your neighbors—and if everyone you see around town is secretly carrying thousands of dollars in credit card debt:
 
Brick Underground articles occasionally include the expertise of, or information about, advertising partners when relevant to the story. We will never promote an advertiser's product without making the relationship clear to our readers.