Summer is nearly halfway over, but there's still a lot of hot weather ahead in August. What if your fan or current air conditioner just isn't cutting it? Do you invest in a new AC—and if so, which one?  
Read on to find the best way to keep your NYC apartment cool—from in-window and through-the-wall ACs, to split units, PTAC, and portable units. We've also included a selection of the highest-rated, best-selling units on Amazon, Home Depot, and Lowe's, including prices at publication time.
1. Window units
A window AC is probably the most common option for NYC dwellers—the ubiquitous, dripping, noisy units that stick out of windows and create eyesores. Some people live in fear of having one of these units fall out of its window frame and land on them, which last happened (so far as we know) in 2014.
Still, they're great for controlled cooling and usually the most economical option, with costs starting at around $100 for a unit that claims to cool a 150-square-foot room. Before investing in one, you'll first want to find out if your building allows them. Landmarked buildings, for instance, frown on using them on the facade (but some people do it anyway), and some older buildings prohibit them if the electrical system can't support it.
You'll also need to determine the type of unit that is best for your needs. Start by measuring the room in which you will use it. Once you know the square footage of the space, you'll have a better sense of how powerful a model you'll need to buy (don't forget to take ceiling height into consideration). Cooling capacities start at 5,000 BTU (British thermal units) per hour and can go up to 18,000 BTU per hour for the typical apartment-sized cooler.
These are 115-volt units that can plug into a 120-volt outlet, which is standard for household voltage. If you purchase a stronger 230-volt unit, you'll need to make sure your outlets can handle the extra voltage—if not, you'll need an electrician to upgrade your wiring.
According to Energy Star—the government program that provides certification to consumer products that meet certain standards of energy efficiency—you'll also want to adjust for the following circumstances:
If the room is heavily shaded, reduce capacity to 10 percent.
If the room is very sunny, increase capacity by 10 percent.
If more than two people regularly occupy the room, add 600 BTU for each additional person.
If the unit is used in a kitchen, increase capacity by 4,000 BTU.
Consider where you install the unit. If you are mounting an air conditioner near the corner of a room, look for a unit that can send the airflow in the right direction.
Be sure to also look for models that have been Energy Star certified, so you don't end up wasting money on a higher electric bill than necessary—these appliances are more efficient than required by government standards. And check the energy efficiency ratio (the BTU to the input in watts) of each model: It basically is a measure of how well it will operate when the temperature outside reaches 95 degrees or more. The higher the EER rating, the more efficient the AC.
Here are a few models to consider by cooling size: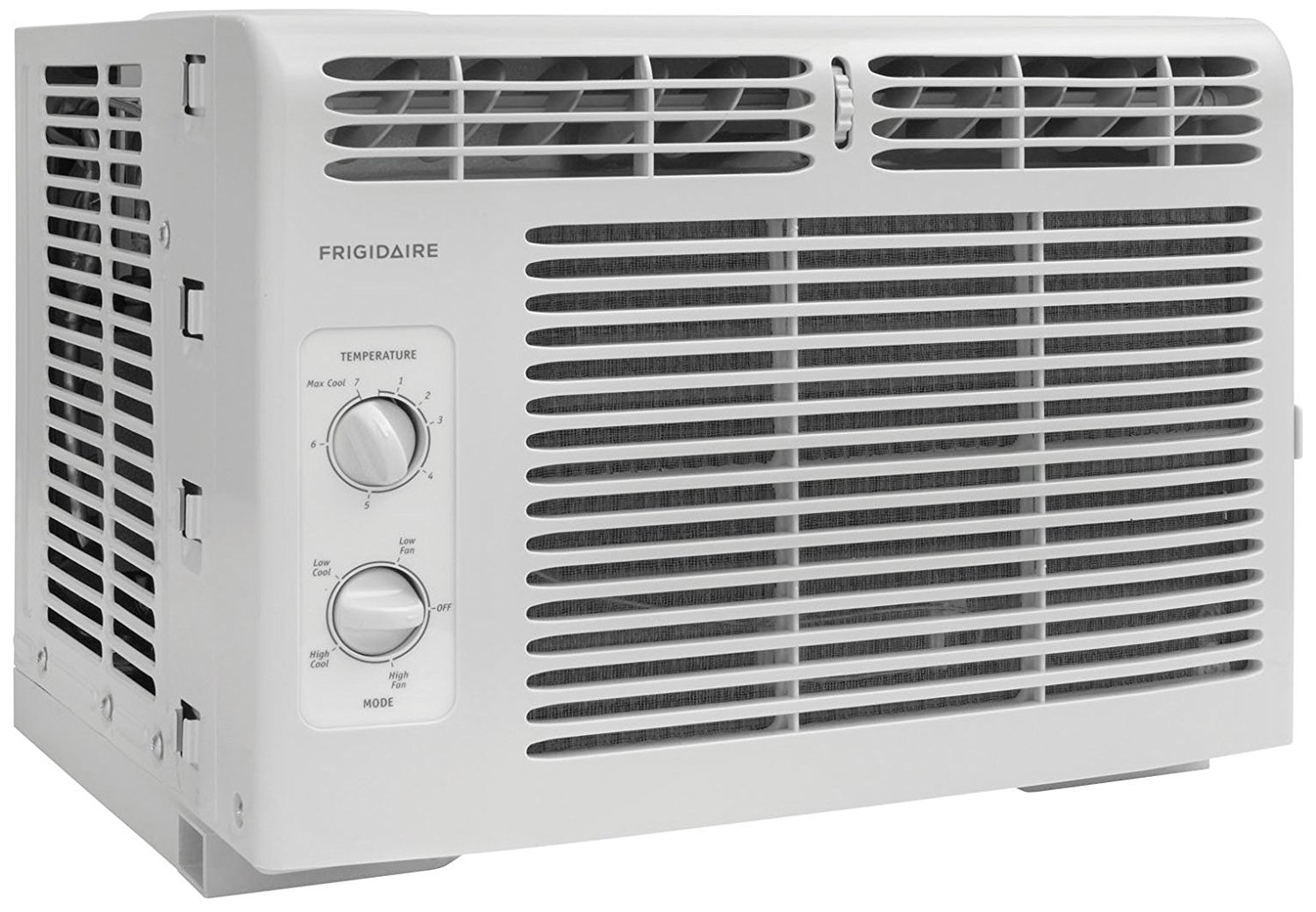 This unit is a top-selling model on Amazon, and claims to "quickly cool" a room of up to 150 square feet. Its EER is 11.1. It has a four-star rating with 2,310 customer reviews on Amazon, and a 4.5-star rating out of 604 reviews on Home Depot.
This best-selling model for this size AC at Lowe's earns 4.5 stars with 162 reviews. It cools rooms sized 250-350 square feet, and is Energy Star certified. It has a light that lets you know when your filter needs cleaning. Its EER is 12.1.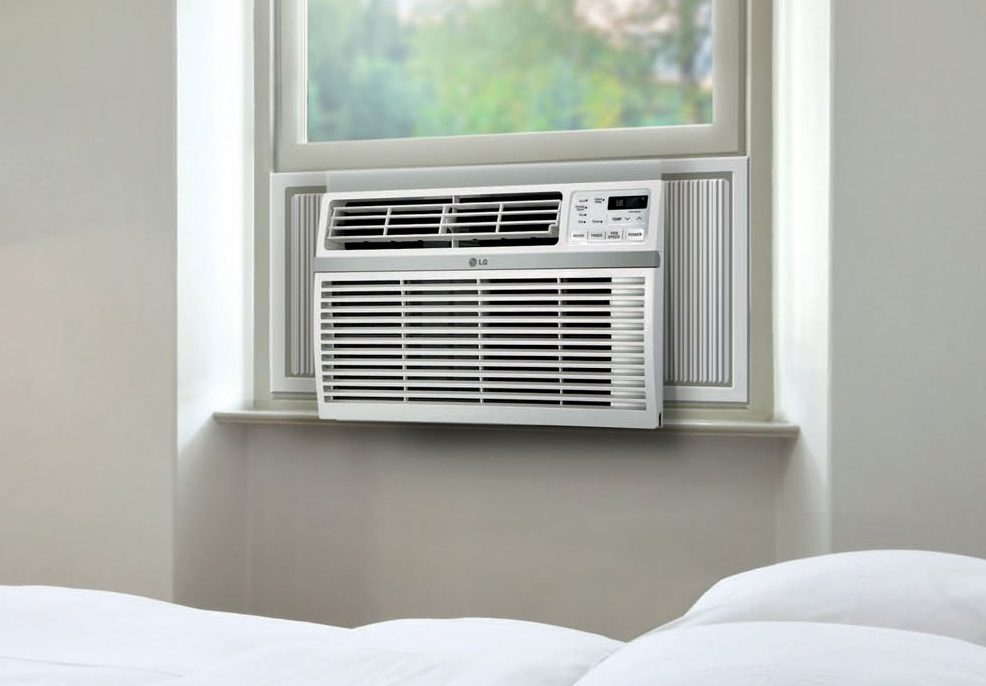 Not only is this a top seller on Amazon, with a four-star rating out of 265 reviews, this window AC is also recommended by Consumer Reports. It cools rooms sized 350-650 square feet. It has remote control, a built-in timer, and dirty-filter indicator—particularly useful for dusty New York streets. Consumer Reports also gave it a "very good" rating for noise on low. Its EER is 12.1. 
2. Through-the-wall units
Similar to window ACs, these units are set into a hole cut into the exterior wall, usually beneath a window, and sit in a sleeve (metal or plastic) that holds them in place.
They function like window ACs in that they are designed to cool individual rooms, but that doesn't mean you can go ahead and buy a window AC to place through your wall. According to Wirecutter, the New York Times company that tests and reviews consumer products, the vents on a typical window unit aren't positioned to breathe properly in a standard wall sleeve, so it won't work as well and will burn out its compressor sooner than it should. Also, unless your building already permits through-wall units, good luck trying to convince them to make an exception for you.
When looking for a through-the-wall AC, the same guidelines apply as window ACs for determining the kind that will be best for the space you need to cool. One exception: With window units, you need to measure the width of your window before making a purchase; wall units require you to also measure the dimensions of the sleeve in which the air conditioner will sit. Read here for more on through-the-wall units.
Here are some of the top-selling models: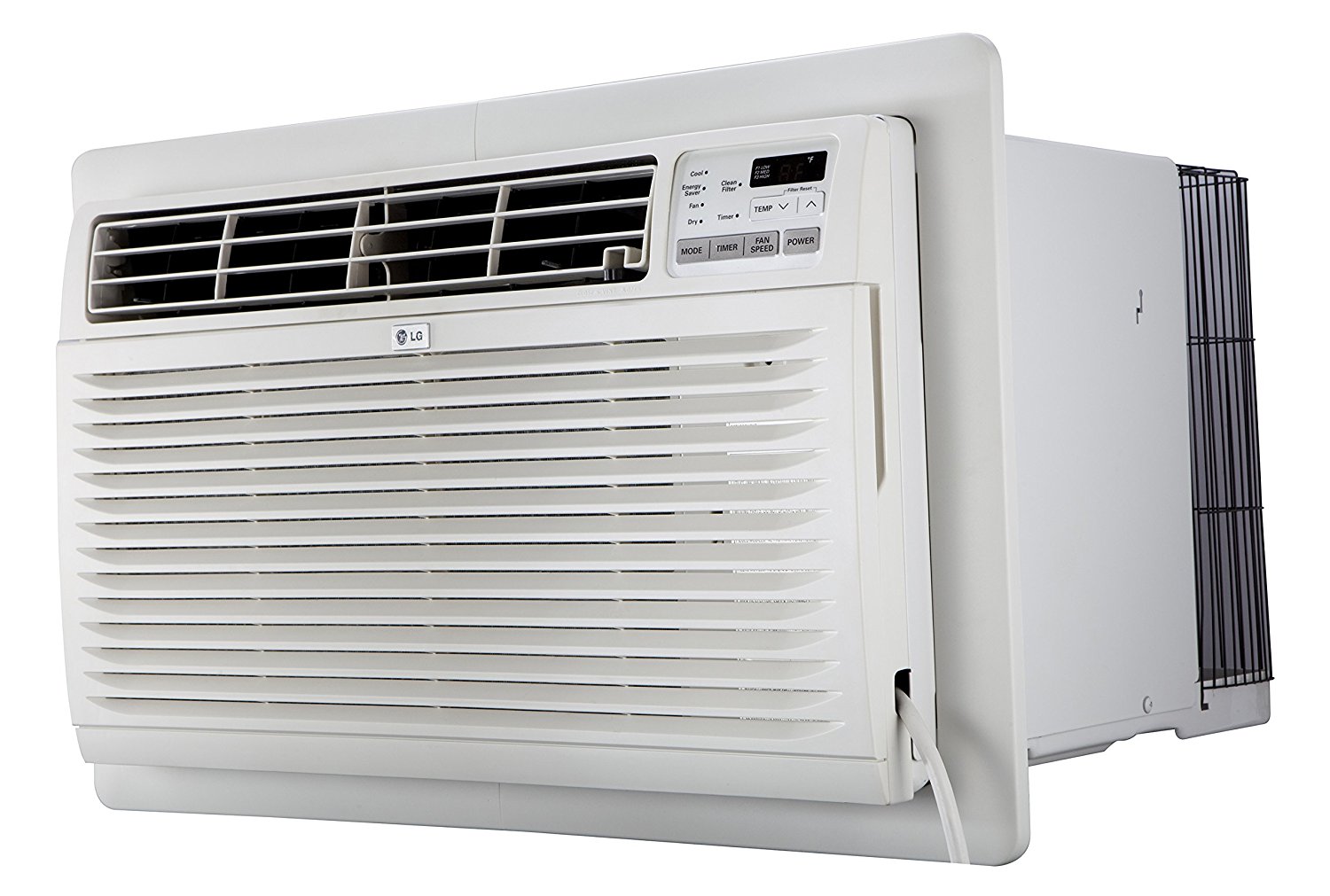 This 8,000 BTU model is the top seller on Amazon (3.5 stars from 114 reviews), and is also recommended by Wirecutter, because it's basically the wall version of LG's window unit (model LW8016ER) which Wirecutter also recommends. It is somewhat quieter than its comparable competitors, and provides more flexibility, such as the fan's directional controls, dehumidifier mode, and removable drain plug. Its EER is 10.7.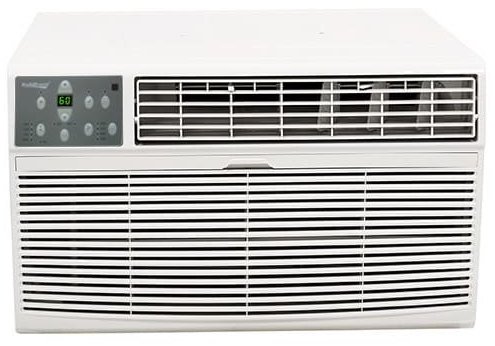 Another 8,000 BTU model, this Koldfront unit is the second-best seller on Amazon and gets a four-star rating with 63 customer reviews. It can cool up to 350 square feet and has four-way air directional louvers, three fan speeds, and four operation modes. One negative is that it is not Energy Star rated.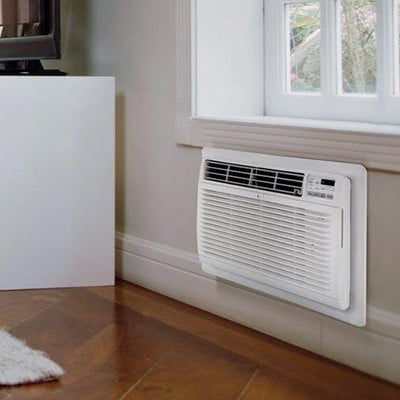 This 12,000 BTU, 115-volt model is a best seller for Home Depot, and has a four-star rating from 70 reviews. It can cool rooms up to 550 square feet and is Energy Star rated. Money-saving features include an energy-saver mode, sleep mode, and programmable 24-hour timer. Its EER is 10.5.
3. Ductless mini split-system ACs
You may see the phrase "split units in bedrooms" in rental apartment descriptions. What this means is that each room has its own ductless mini-split AC. These are popular in Europe and Asia and are catching on in the U.S. They're often mounted high up on a wall so they're less of an eyesore in a room, and are connected to an outdoor compressor. So if you want to install one in your co-op or condo, you will need to get board approval.
These are good options if you can't install central air (more on that later). Hook-ups between the outdoor and indoor units generally require only a 3-inch hole through a wall for the conduit, and multiple units can be connected to a single compressor. They're small, relatively quiet, and can be used for cooling (or heating) individual rooms. The number you'll need depends on the number of rooms you want to cool. You'll also need to have the unit(s) professionally installed.
Because these units heat as well as cool, they get a SEER rating, which differs from EER in that it is a seasonal energy efficiency ratio, and is determined by the cooling output during winter divided by its electric input during winter. As with an EER, the higher the rating, the more efficient the model will be. 
For more on the pros and cons of these systems, check out energy.gov.
Here are a few popular options: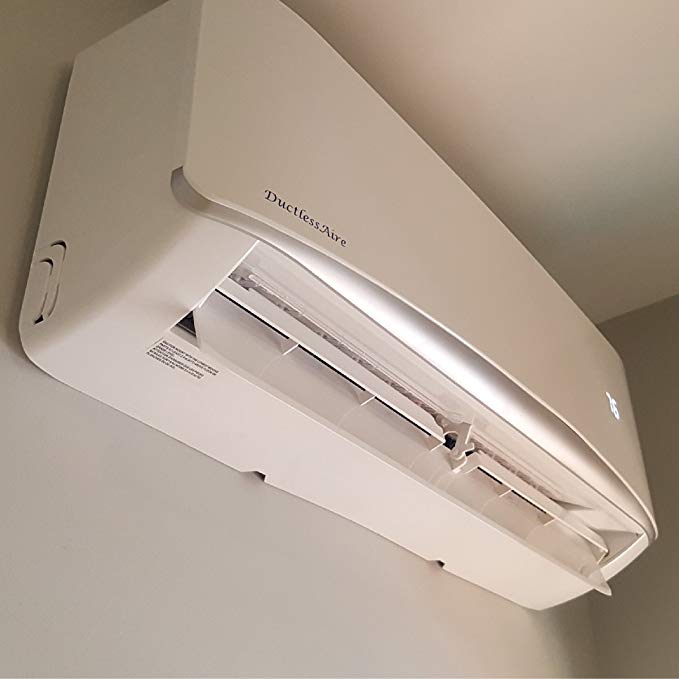 This 24,000 BTU model gets an Energy Star SEER of up to 20.5, so it operates very efficiently. This unit claims it can cool rooms up to 1,200 square feet. It comes with a 220-volt cord. It has a five-star rating from 285 reviewers at Home Depot.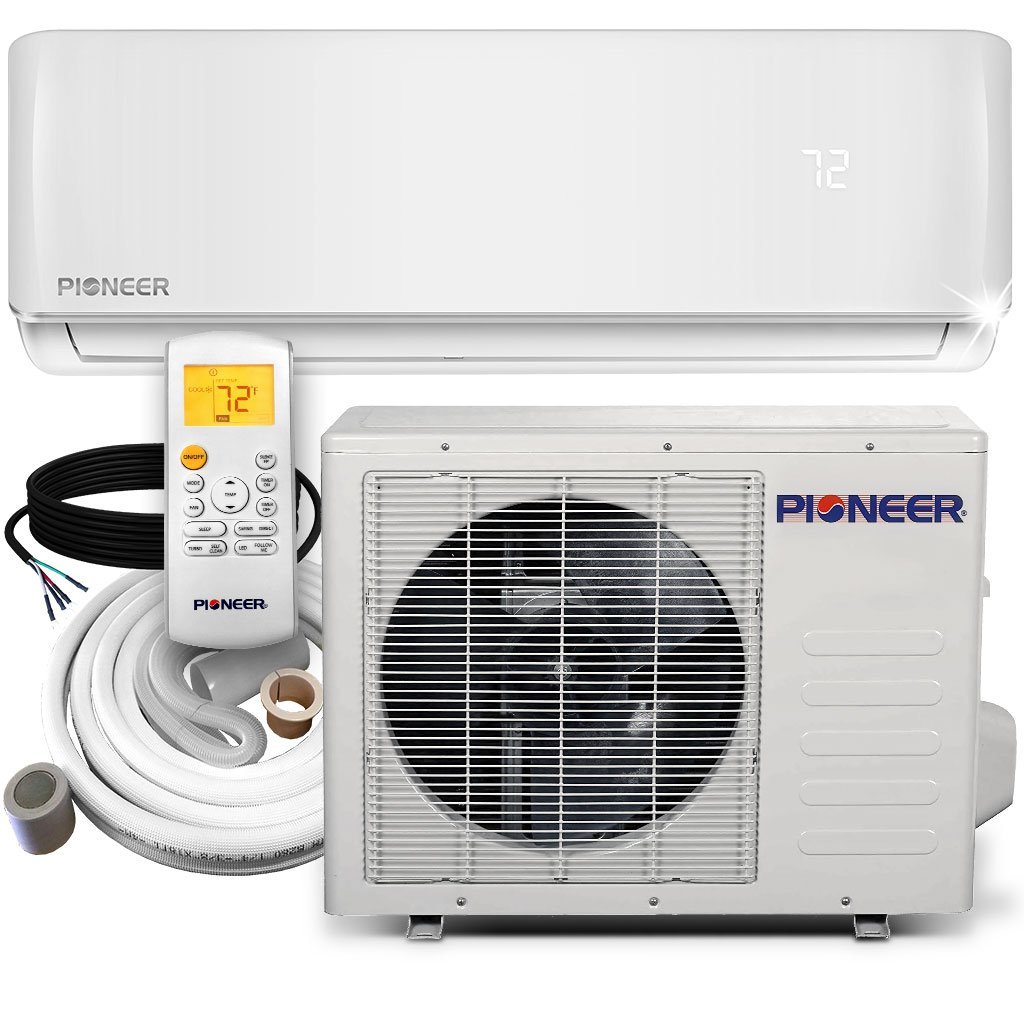 This model gets four-and-a-half stars on Amazon with 465 customer reviews. It has 9,000 BTU and comes with a 120-volt cord, so can be used in most standard NYC apartment plugs. Its SEER is up to 17. 
4. Packaged terminal air conditioner (PTAC)
A PTAC sits independently along a wall, usually beneath a window, and often combines cooling and heating into one unit. (You'll often find them in hotels.) They look similar to an enclosed radiator with vents at the top. They usually come with a 230-volt cord, so make sure your apartment is properly wired for it.
PTACs are typically installed when a building is constructed and are hooked up to its hot-water system. The hot water produced by the boiler flows into the PTAC and circulates the resulting heat into the apartment. There's a separate chamber containing coolant that produces cool air. They are vented to the outside through a cutout below the window, usually covered with a metal grill, similar to a through-wall AC.
PTAC units are a little more expensive than through-wall units, but the cost to run them is about the same. Read here for more on the pros and cons of PTAC systems.
Here are two options. Note that units require a wall sleeve and grille, which are sold separately.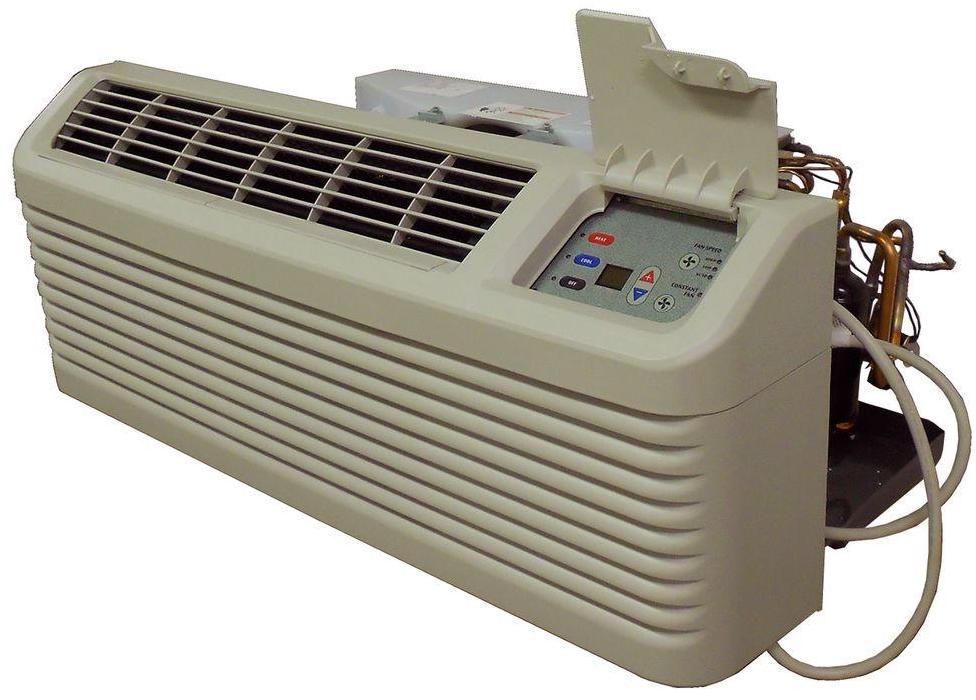 This 9,000 BTU model gets a five-star rating with 11 reviews at The Home Depot. Its EER is up to 11.7. The product overview mentions a redesigned construction with two fans for quiet operation.

At 14,500 BTU, this unit can easily cool most NYC apartment rooms. Even though there are only two reviews on Amazon, both rate it five stars. Its EER is up to 13. 
5. Portable ACs
These units should be used as a last resort if your building doesn't let you use window units or any of the options above that require a through-wall installation. They aren't as efficient as other types of units, meaning they don't cool as well, they're noisier, and they're more expensive. Plus, they take up valuable floor space.
Should you have to go this route, Consumer Reports recommends that you install it correctly, get a fan to help move the air around, and block the sun from coming into the room where you're using the unit.
Here are two options: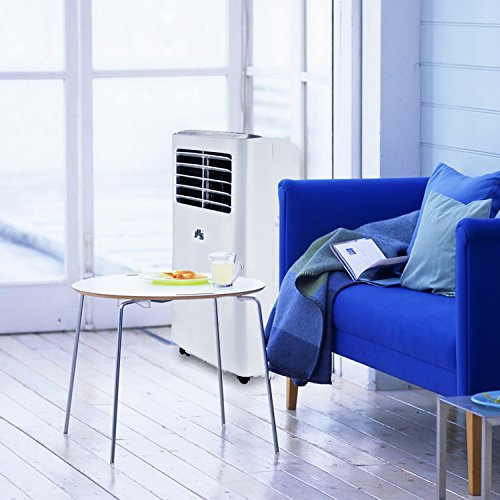 This 8,000 BTU unit claims to cool up to 170 square feet of space, and has three functions: AC, fan, and dehumidifier. It gets a four-star rating from 42 reviews on Amazon.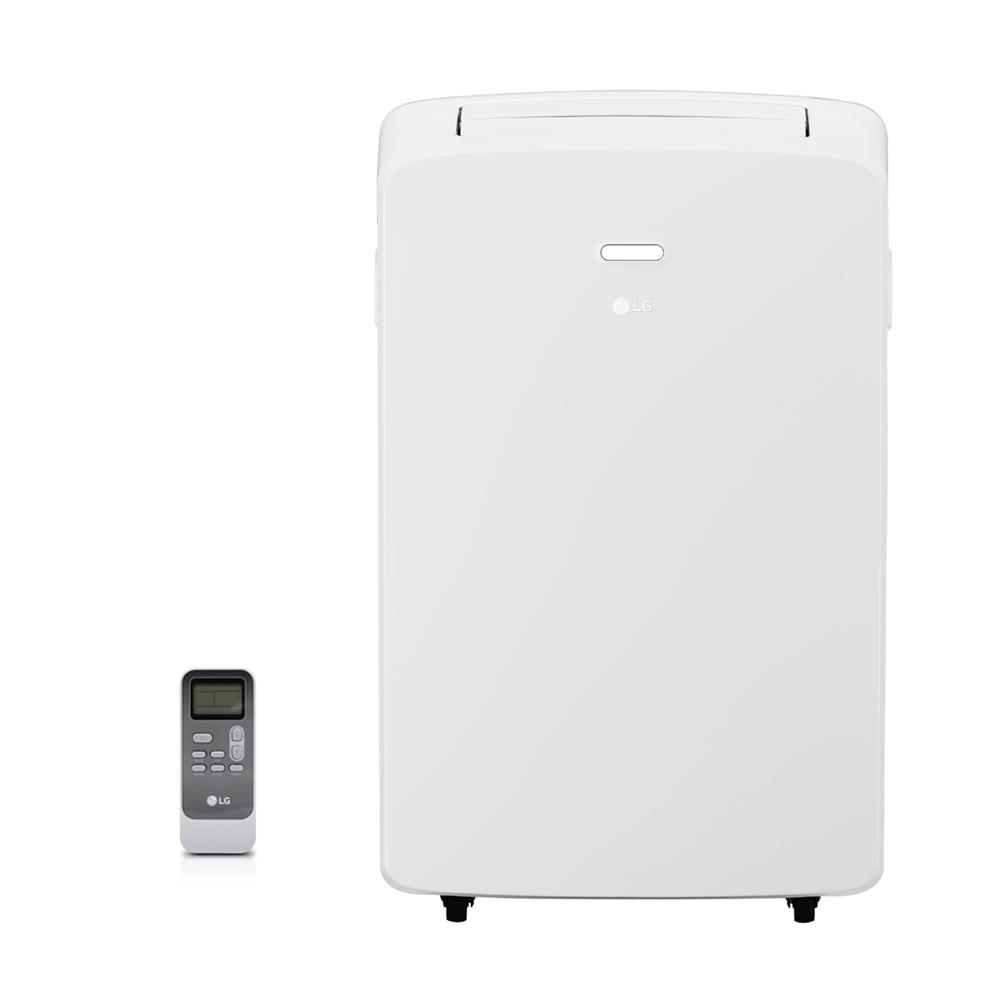 LG LP1017WSR ($326 on Amazon; $329 at Home Depot)
This top seller on Home Depot has 10,200 BTU and claims to cool up to 300 square feet. It comes with two cooling and two fan speeds with an oscillating air vent. It gets a four-star rating from 522 reviews.