The fact that it's a corner unit is probably the best thing about this $635,000 West Village "junior one-bedroom" co-op at 731 Greenwich St., says architect John Berg of Berg Design Architecture, a firm with offices in Manhattan and East Hampton.
"The living room has windows on both sides," he says, so it's probably sunny and bright in there during the day.
That said, there's plenty of work to be done.
"The bathroom's too damn narrow, and the kitchen looks like it almost doesn't fit in there," he says.
His recommendations:
The living room
"This looks like a cheap-o floor," Berg says.
But it seems to be in decent condition, so he contends that there's no reason to take on the added expense of ripping it out and putting in an entirely new floor. Instead, the first thing he'd do here is stain it, darker or lighter, depending on your preference. (This should run around $200 or so.)
Next he'd turn his attention to the walls, currently painted a light blue. He would repaint the room using a neutral yet "warm white" like Benjamin Moore's White Dove ($70 a gallon).
"I think furniture and art is the best way to bring color into a room," he says.
For the ceiling, he'd use Benjamin Moore's Decorator's White (also $70 a gallon).
"It's a standard cold white," he says, adding that it can easily cover up any imperfections.
Moving on to lighting, Berg says that he "isn't a fan of direct overhead lighting," which he considers universally unflattering. As such, he'd lose the lighted fan on the ceiling and replace it with another one without a light, like this flush-mount fan from The Modern Fan Company ($324 at YLighting). As for what will actually illuminate the space, he'd go with floor lamps, like this one ($895 at YLighting).
He loves the windows, but he's not a fan of the vertical blinds.
"I'd get a high-quality roll-down solar shade in a neutral shade," he says. These from Levolor are $141 at The Home Depot.
Berg also says he'd be happy to find a way to hide that eyesore of an air conditioner to the right of the windows. He suggests a custom-built floor-to-ceiling bookcase that might make the ancient unit stand out a bit less. He thinks that such a project would cost $10,000-$15,000, or more.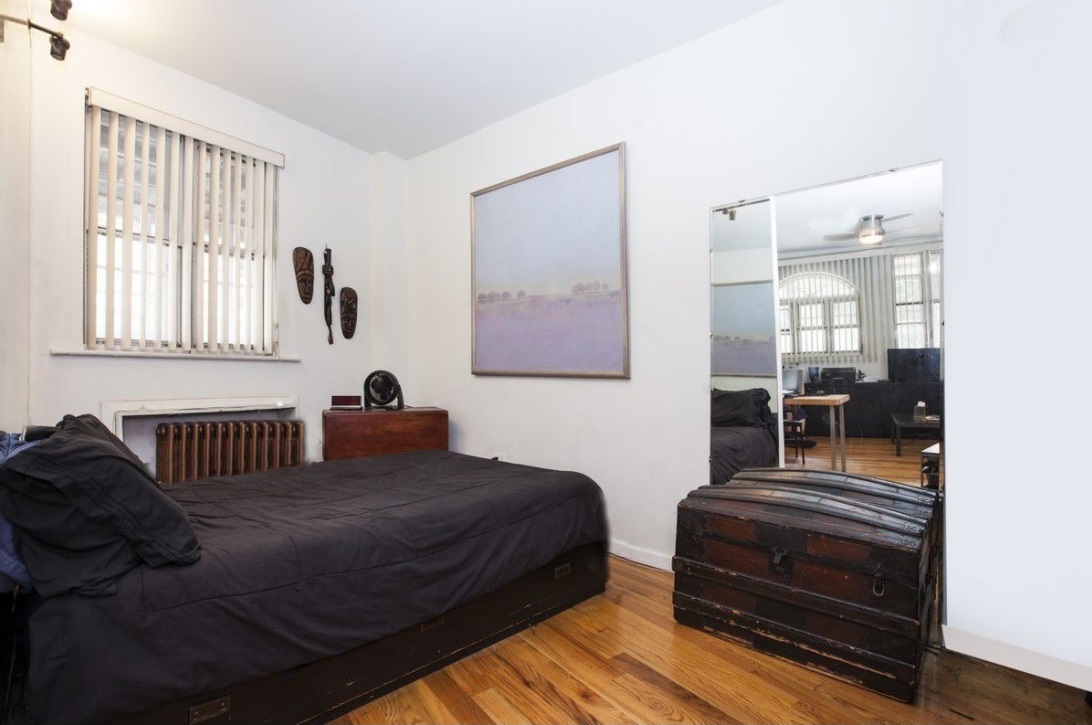 The bedroom
Although it's impossible to tell because there isn't a floor plan in the listing, Berg says that after looking in the mirror in the photo here and seeing the living room reflected back, "I don't think there's any kind of real separation here between the living room and the bedroom. It might be an alcove."
If that's the case, he says there are lots of creative ways to separate the two spaces. For instance, he suggests a grommet curtain, like this one from Overstock.com ($54.82).
To keep things consistent in the apartment—especially important if this "bedroom" is just an extension of the living room—he'd do a lot of the same things that he did in the living room. He'd stain the floors the same hue, paint the walls the same White Dove, and get new solar shades for the windows.
Lighting up the space is once again going to be tough. The ceiling is probably a concrete slab, meaning you can't recess any lights into it without first dropping the ceiling—not something you want to do unless the ceilings are already pretty high.
"It's very very difficult to light an apartment with a concrete slab [ceiling]," he says. He'd very reluctantly recommend a track lighting system (maybe Tech Lighting's Monorail System, $585-$740 at Lumens).
"I don't like to look at it," he says of track lighting. "I like to see a clean ceiling."
Still, he doesn't see a lot of options beyond that or floor lamps.
"I think this room is really all about picking the right furniture," he says.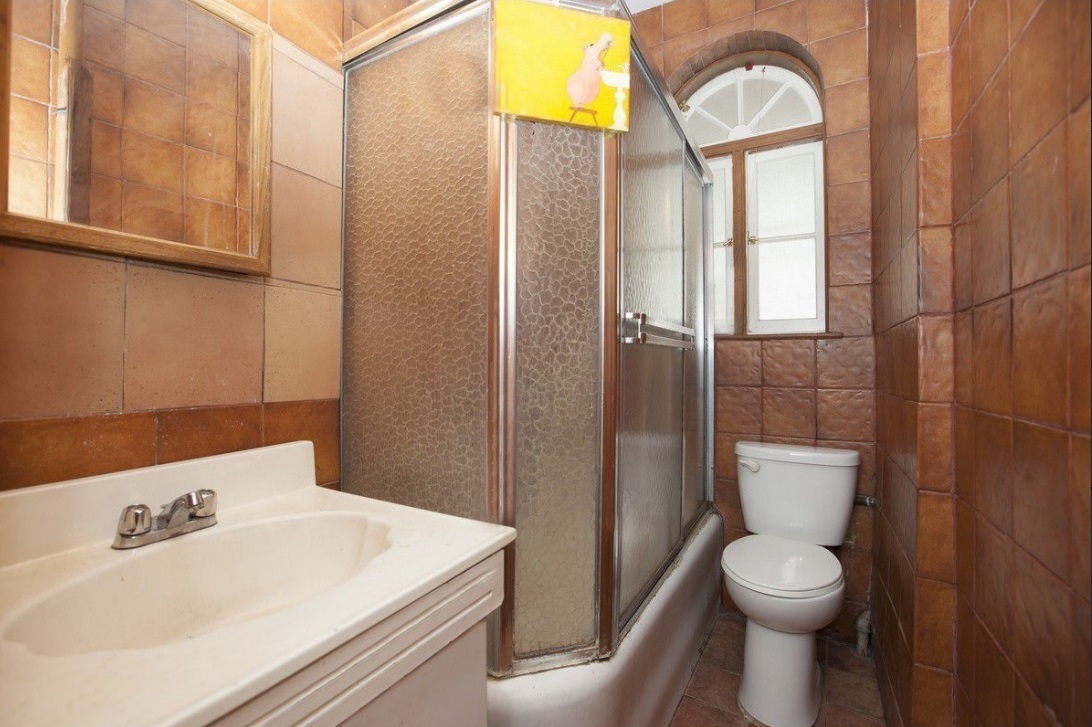 The bathroom
"That tile's got to go," says Berg. Once the textured brown tiles are gone, he suggests either painting the walls white, or getting large white porcelain tiles, which, he says will make the room feel bigger. (He believes the tiles ought to cost around $6-$7 per square foot.)
He'd also swap out the tiles on the floor.
"Light gray porcelain would be nice here," he says. (These should also be around $6-$7 per square foot, he believes.)
Berg says he'd keep the tub, since they can be a pain to replace and this one looks fine, but he'd get a new glass enclosure for it (like this Kohler frameless one for $2,009) as he thinks the existing one is "awful." He'd also get a new toilet (like this Toto one-piece, $438 at Lowe's) and shower head (like this Moen fixture, $60 at Lowe's), as the ones there currently seem to be old.
He'd trade in the vanity for a wall-hung piece (like this Duravit one, $862 at Overstock.com) to clear up some floor space. 
And he'd forego the usual medicine cabinet in favor of a custom mirror that goes from the very top of the vanity all the way up to the ceiling, to make the room feel bigger. (He estimates that a mirror like this should cost around $1,000.)
As for lighting, Berg says he'd go with a "linear, modern sconce," because that should be the most flattering. This Elementum dweLED bath light is $229 at YLighting.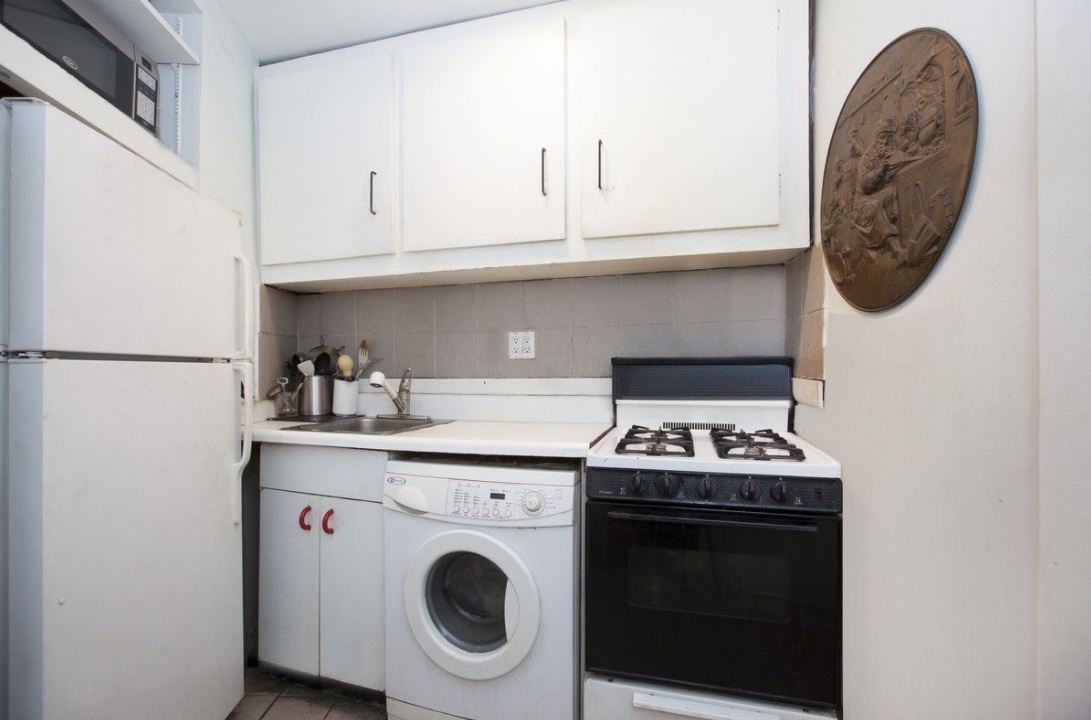 The kitchen
"I don't even know where to begin here," Berg says with a laugh. He'd pretty much gut the entire room.
He'd get new Caesarstone countertops since they're pretty much "bulletproof," he says. "They're super durable," and will probably cost around $1,500 or so. He thinks gray would look good here.
He thinks he'd also go gray with the floors, in the form of new porcelain tiles that will feel nice underfoot.
"They're simple but warm," he says. They should probably be around $6-$7 per square foot.
He thinks a counter-depth refrigerator like this 25-inch Fisher & Paykel fridge ($1,699 at AJ Madison) would work better here.
"It'll help the kitchen feel a little bigger," Berg says.
He'd also get a new stove, like this counter-depth stainless steel Whirlpool range ($430 at Best Buy).
As for the washer/dryer combo, he knows in-unit laundry is nice, but he says this looks out of place. He'd replace it with "some decent base cabinets." He'd also get rid of the rest of the mismatched and dilapidated cupboards and install new ones, probably in white to keep them neutral-looking. He thinks you could probably get a whole new set from IKEA for around $1,500 or so. He'd then add under-cabinet lights like these from The Home Depot, ($60) to make it easier to see those vegetables you're trying to chop.