Lots of New Yorkers who are working from home while their kids are doing school online are feeling stressed out.
It's not just that they have do their own work while overseeing their children's (which is a challenge that can make you want to rant and rave, like this widely-shared video of an Israeli mother) but most have to do so within the confines of a small NYC apartment.
And if you're like me, you've discovered that your set-up for your kids' homework doesn't work for online school. My fifth grader's desk, which sits in a corner of the living room, has been abandoned. To log on for her Zoom calls, she needs to be where the wifi is strongest—which happens to be my bedroom. So now she logs onto to Zoom from my (typically unmade) bed. I wonder what her teachers think of me.
Don't worry, she tells me. All the other kids are doing Zoom in their beds too, she says.
---
Editor's note: Click here for more of Brick Underground's coronavirus coverage.
---
There are some silver linings to our strange new work/school home life: I've joined my teenager at her usual workspace (the dining table). We haven't spent this much time this close to each other in many years, and I am grateful. Her snarky sense of humor enlivens my day: After a conference call, she says my co-workers and I remind her of "The Office."
Still, with NYC schools most likely closed for the rest of the year, I was thinking I should set up separate workstations for both daughters. I reached out to some interior designers for products that would give them each a place to work without having to invest in a major piece of furniture. Here's what they suggested could help create some more privacy—and less stress in these anxious times.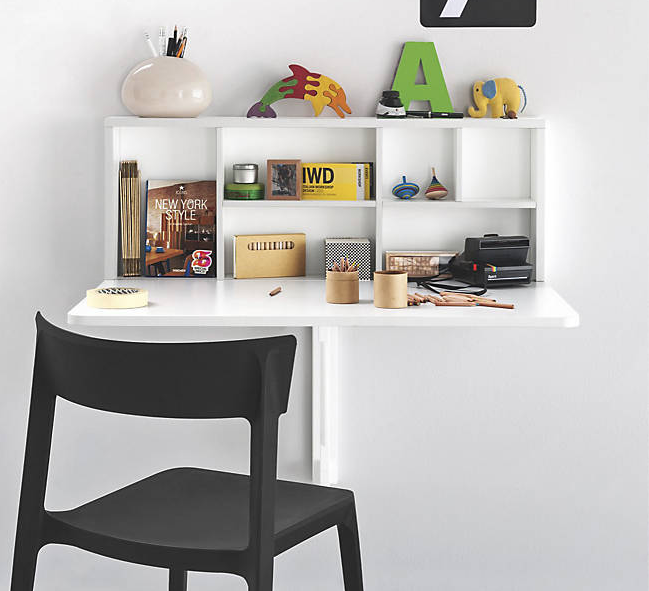 "When you suddenly need to fit three or even five people on computers and work areas, spacing and creativity is key," says Jennifer Morris, founder of JMorris Design. "I find the Zoom-class-and-work-call overlap distressing and being flexible with how and where and when you work is key.  
She says to consider your entire apartment when thinking about areas to set up a workspace. If you have some installation ability, then a wall-mounted desk is a good option, because it can go in a foyer, hallway, dining room, bedroom, or even a walk-in closet.
Pro Tip:
Your home is your emotional and physical sanctuary, and right now, it's probably doing double or even triple duty. With Zoom meetings, home schooling, virtual happy hours, and other distractions, accidents can happen, like cooking fires, sink overflows, floods from broken dishwashers and other mishaps that could cost you thousands. Now more than ever, protecting your home, possessions and finances with insurance is an affordable necessity, not a luxury. Click here for a quick quote from the apartment insurance experts at Gotham Brokerage. >>
"I think these are good solutions because they can be located in temp locations to get the spacing right without eating up lots of precious floor space. They can fold up at end of day and keep the space open," she says. And wall boxes can be re-purposed as mail sorters or craft stations later on, when NYC's stay-at-home order ends.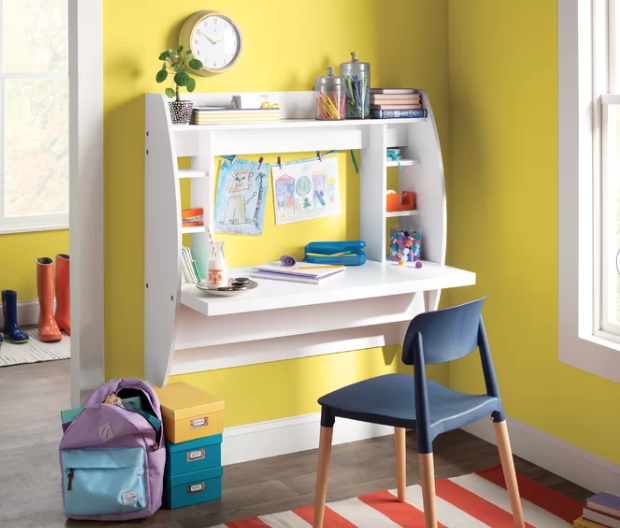 If you're looking to spend less, Wayfair's White Cushing Floating Desk has lots of storage, however it doesn't fold up.
Another approach best suited for small children comes from Adam Meshberg, founder and principal of Meshberg Group. He suggests setting up several "work activity stations" for children in different parts of your apartment, similar to a classroom environment. 
For example, you can create a reading station using the lower shelf of a bookshelf and a small kid's chair, an art station on a plastic mat or drop cloth, a math station with Legos for counting (and bins for sorting and putting them away, like these canvas floor bins from Crate&Kids), and a gym station with a yoga mat and streaming exercise classes from Cosmic Kids Yoga or the YMCA.
If your child needs a desk, he suggests the Kids' Paxson Desk from Crate&kids (formerly Land of Nod)—which has a simple, low-profile design. Ouef also has great desks, he says.
Those options may be a bit pricey. There are lots of options for simple desks at retailers like Overstock.com and Wayfair that you can easily adapt for other uses later, when life goes back to normal, which hopefully will be someday soon.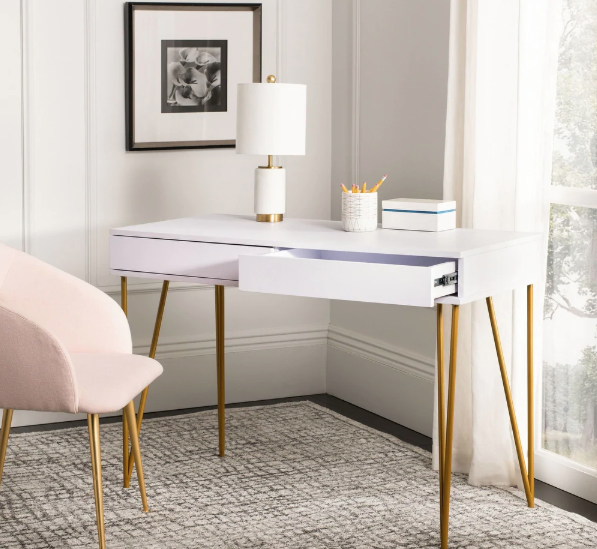 This white desk works with a lot of kids' furniture and the streamlined design and gold-finished hairpin legs makes it stylish enough for adults to appropriate later when the kids go back to school. It also comes in a natural/gold finish.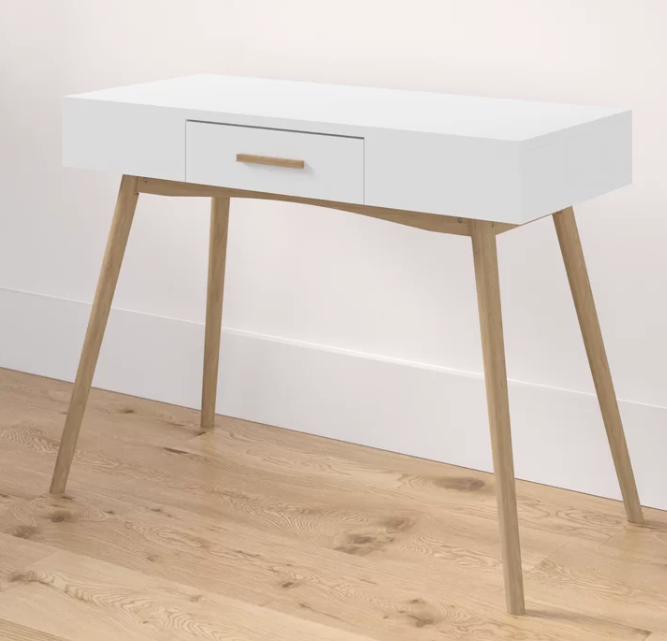 Another two-toned piece that you can incorporate with your kids stuff for now, then adapt for a different use later. The legs are solid wood.
Brick Underground articles occasionally include the expertise of, or information about, advertising partners when relevant to the story. We will never promote an advertiser's product without making the relationship clear to our readers.