Roommate horror stories—we've heard our share. There's the one about the creepy loner and his fondness for taxidermy. And the one about the dancer who'd nurse her bleeding feet on the shared kitchen table. Oh, and of course, the one about the guy who pulled a disappearing act, leaving a mountain of shared household bills—unpaid—in his wake. Nearly everyone in New York City can commiserate about roommate situations gone awry, past and present. Unless you make six figures and can swing a place on your own, chances are you probably will, too.
[This story was originally published in 2015 and was updated in May 2017. We're presenting it again here as part of our end-of-year Best of Brick week.]
The following updated list of websites will hopefully take a bit of the sting out of the roommate-finding process and help you find a sensible, sane human being to live with. This way, the only story you'll have to tell is the one about the housemate who's perfect for you.   
Pro Tip:
Need help finding a rental that allows temporary walls--or a landlord who will accept multiple guarantors? The rental experts at Triplemint, a Brick Underground partner, know exactly where to look.  If you sign up here, you can also take advantage of Triplemint's corporate relocation rate--where you'll pay a broker's fee of 10 percent of a year's rent instead of the usual 12 to 15 percent on open listings. Bonus: The agents at Triplemint are a delight to deal with.
1. Symbi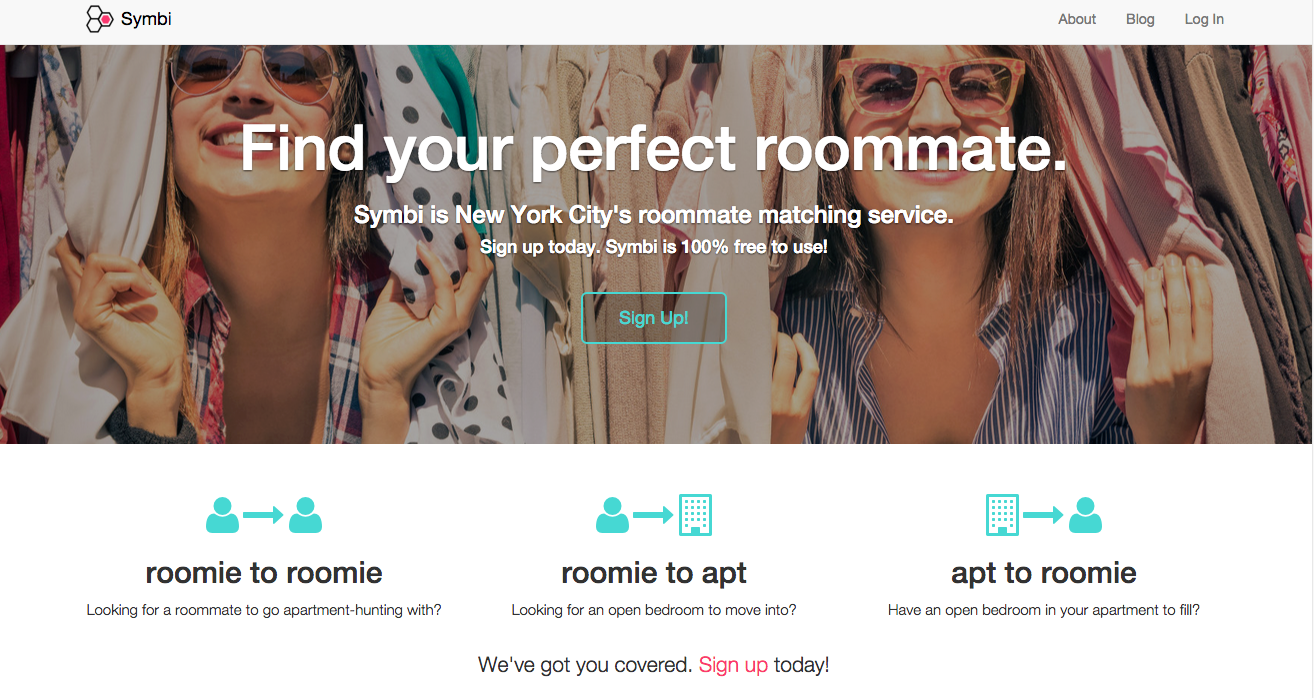 According to the founders of this NYC start-up, which debuted in early 2015, Symbi is "Match.com for the roommate world," pairing apartment-seekers for free. Users can search for a room, a roommate to look for a place with, or roommates to take over an empty bedroom in their apartment. You fill out a questionnaire with information on your sleep schedules, your cleanliness preferences and more, and the site finds you a match. 
2. Diggz
​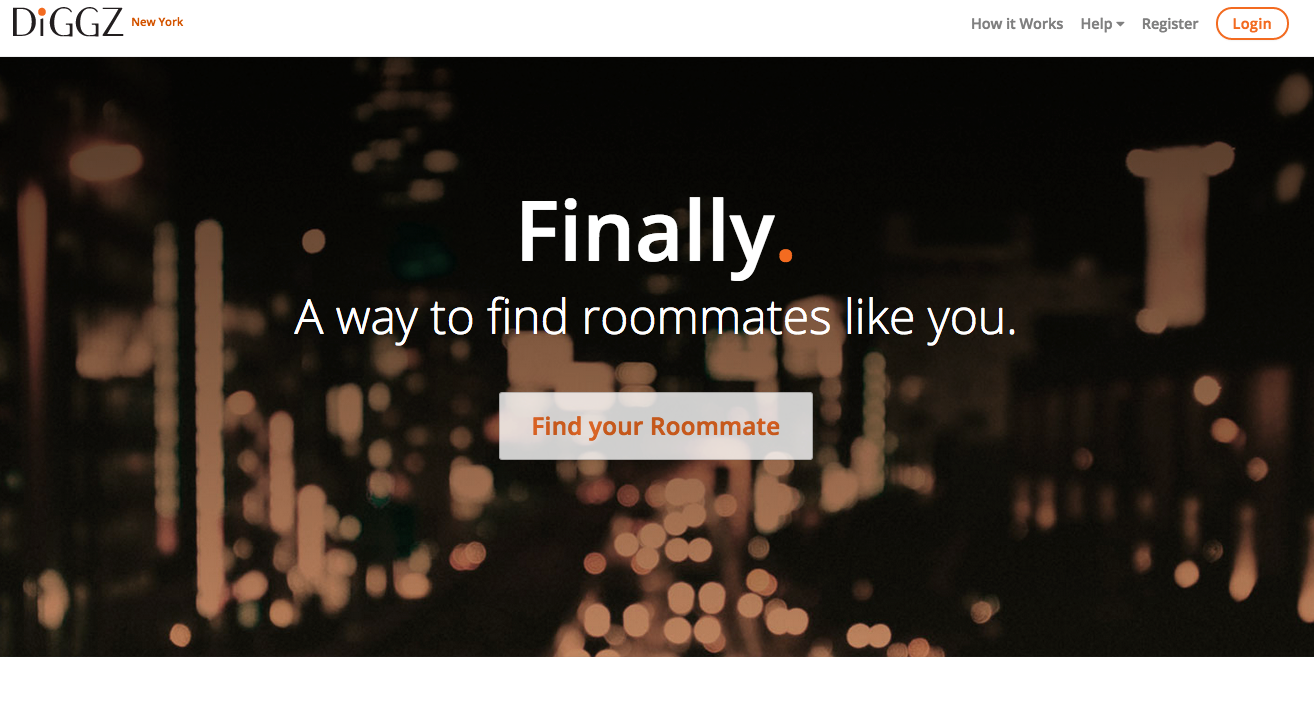 Founded in 2014, Diggz is a roommate-matching site for the five boroughs, Jersey City, and Hoboken. As soon as you enter your information (personality, preferences, etc.), Diggz will show you 10 people who match your criteria (it's all done with a proprietary algorithm), and you can choose to "like" people you're interested in contacting and reach out to them anonymously. Once you've made a match, Diggz can help connect you with a real estate broker (who may or may not charge a fee). They also can refer you to reliable movers. 
3. SpareRoom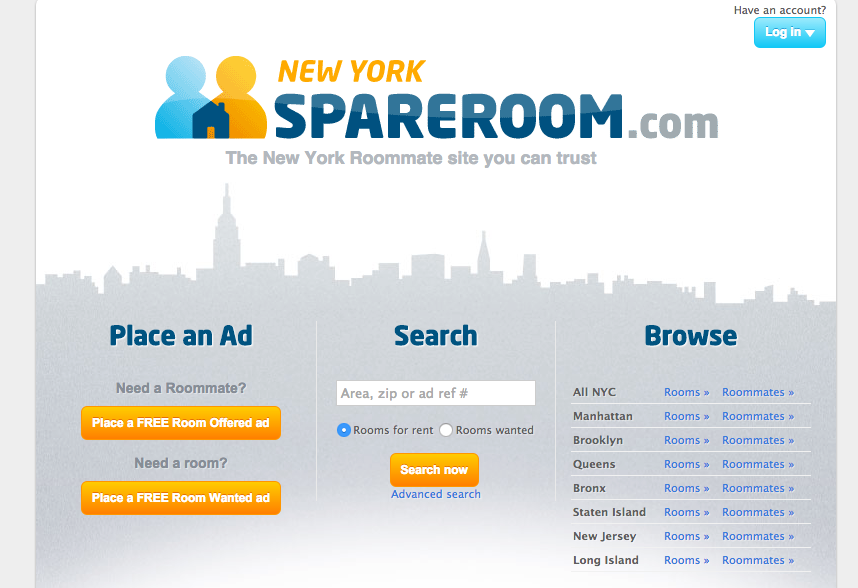 This British site made its debut stateside six years ago, launching a New York-centric hub in 2011.
Users can post ads or browse rooms in all five boroughs (as well as Long Island and New Jersey) for free; upgrades (including a "Bold Ad," which is highlighted in search results) are available starting at $10.99 a week.
Around 1,000 New York-area rooms are listed at any given time (as well as 1,600-plus ads from roommates looking for rooms)—and all ads are individually vetted by staff for scams. For those who'd prefer to meet prospective roommates offline, SpareRoom hosts free SpeedRoommating events every week—alternating between FADA in Williamsburg and Revival in Union Square. Attendees get stickers saying either "I have a room" or "I need a room," then mix and mingle until they find someone they think they'll be able to cohabit with in relative harmony. (Check out our podcast episode on what these events are like in person.) 
4. Reddit
​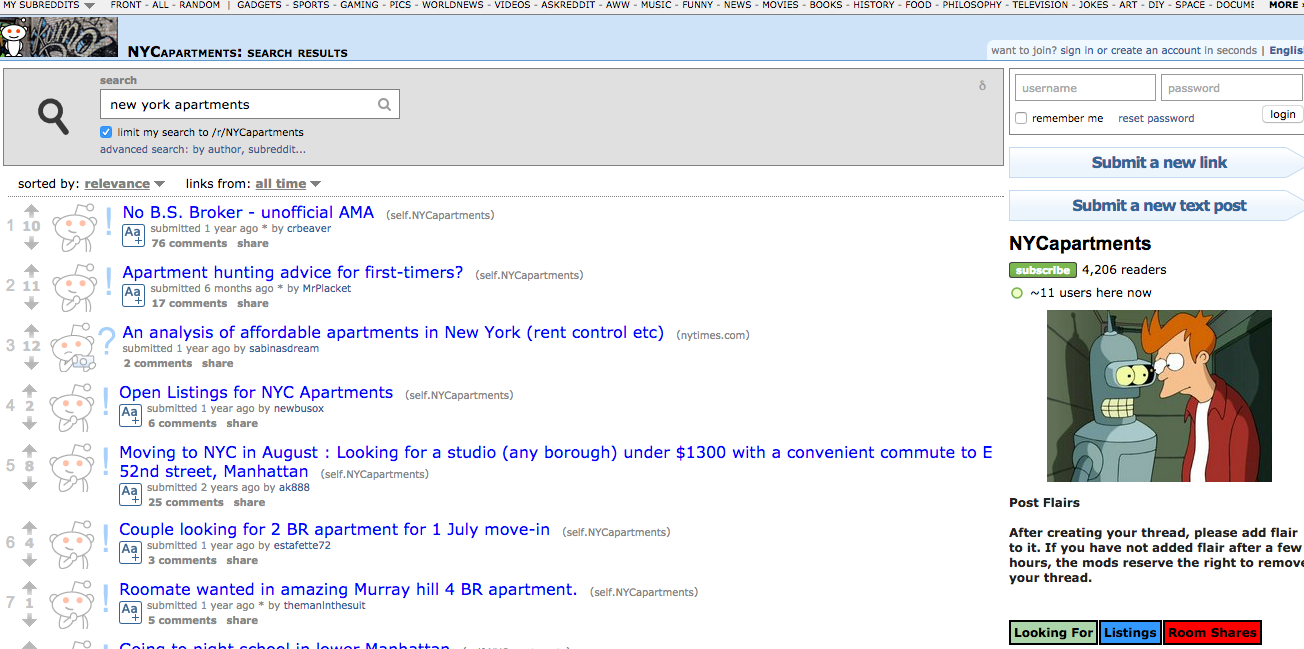 ​If you're already spending a lot of your free time on Reddit, you might as well look for an apartment there, too. Under New York Apartments, you'll find discussion forums (on topics like: "Apartment hunting advice for first-time New Yorkers?") as well as listings for lease-holders who need roommates in their apartments and roommates who need apartments. Note: Users aren't verified like they are on some of these other sites, so proceed with caution—Craigslist-level caution. 
5. Rainbow Roommates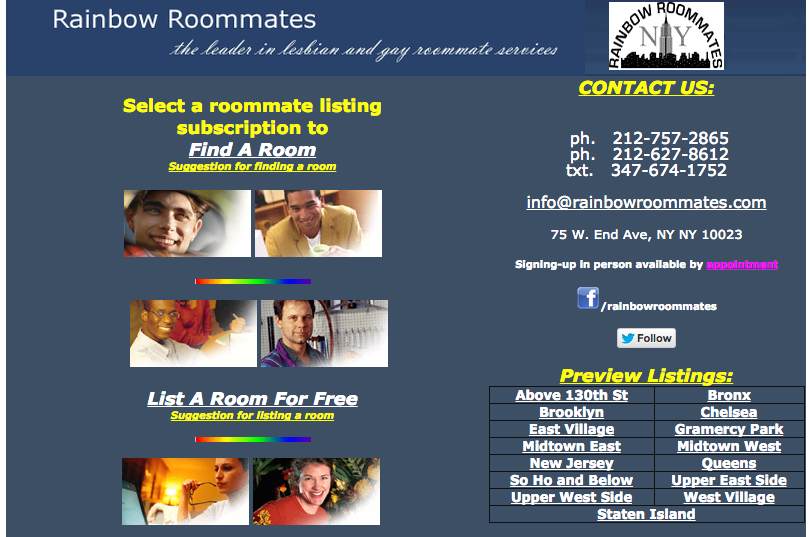 Aimed at the LGBT community, this website claims to be able to find most clients a new home within just two weeks. Listing your apartment opening is free, but membership for access to said listing is not. 
Spend $40 for a 15-day account if you're desperate to resolve your roommate situation immediately. If you have a little more time, it's $75 for a 30-day subscription. And if you find a roommate through the site but realize within two months that it isn't meant to be, Rainbow Roommates offers one month of service at no charge.
6. Listings Project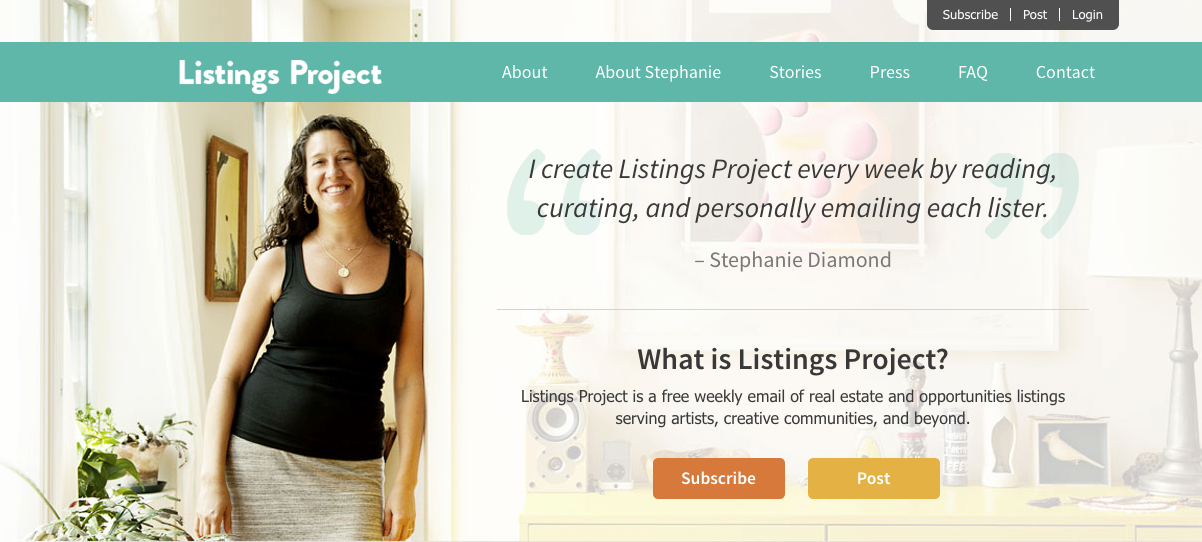 The Listings Project isn't exactly a website but a weekly email newsletter (but you sign up on the website). Here, you'll find apartments for rent as well as shares and sublets, and can also place a listing explaining what you need. Brokers are not allowed to post on the list, and it costs $30 to publish a listing, so the odds that what you read is what you get are vastly higher than, say, on Craigslist. Listings tend to come from creative types, so expect a lot of Brooklyn offerings. 
7. PadMapper​

Padmapper collects apartment listing search results from a slew of sources (ForRent, Airbnb, Apartment Search, and more than 100 others, including brokerages), and plots the locations of available listings on an interactive map. Then, it helps you narrow down those places you might be interested in with a very thorough set of filters (cost, commute time, max price per bedroom, etc.). Search by "rooms" to find a share. You can also type in keywords such as "vegetarian" to find like-minded roommates.
There are millions of users on the site each month, and according to the company, most are looking for roommates who already have apartments. 
8. BangItOut
​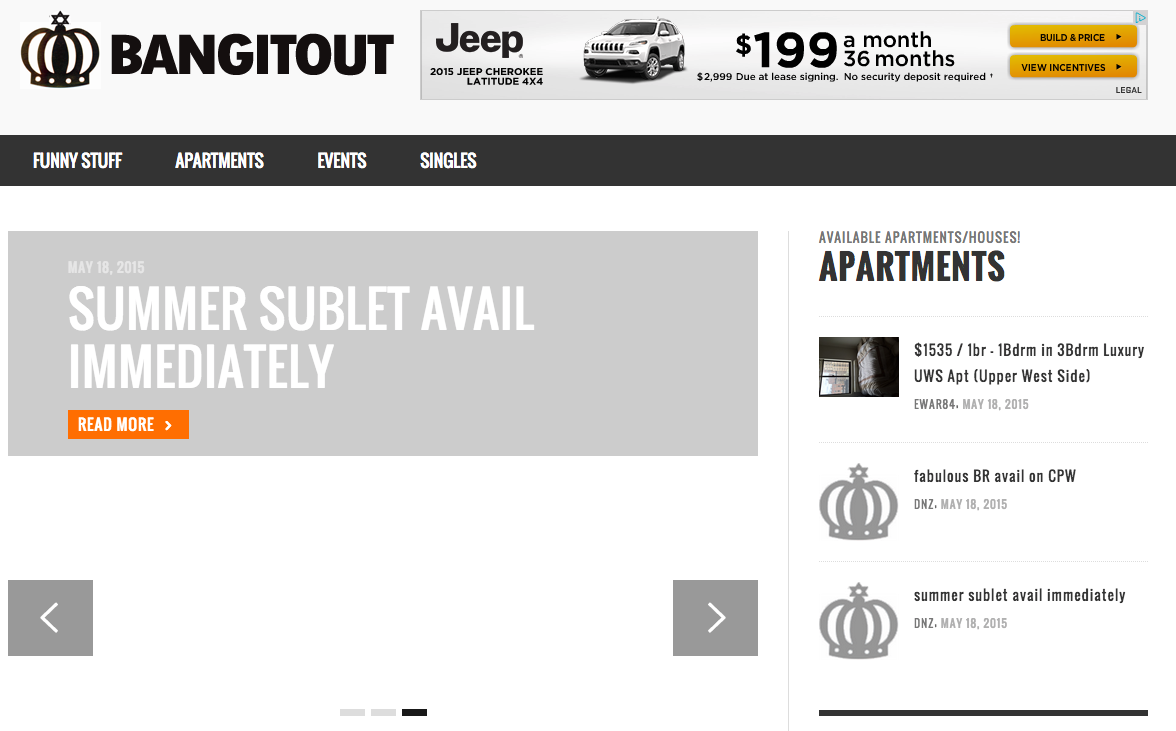 This site has a very specific niche—Jewish New Yorkers who keep a kosher kitchen. It's free to have available rooms listed in its directory of "Apartments That Bang," and free to browse, too. The vast majority of its listings are on the Upper West Side—a mecca of sorts for young, Modern Orthodox Jews—but there are also openings in Washington Heights and the Upper East Side. 
9. Roomster
​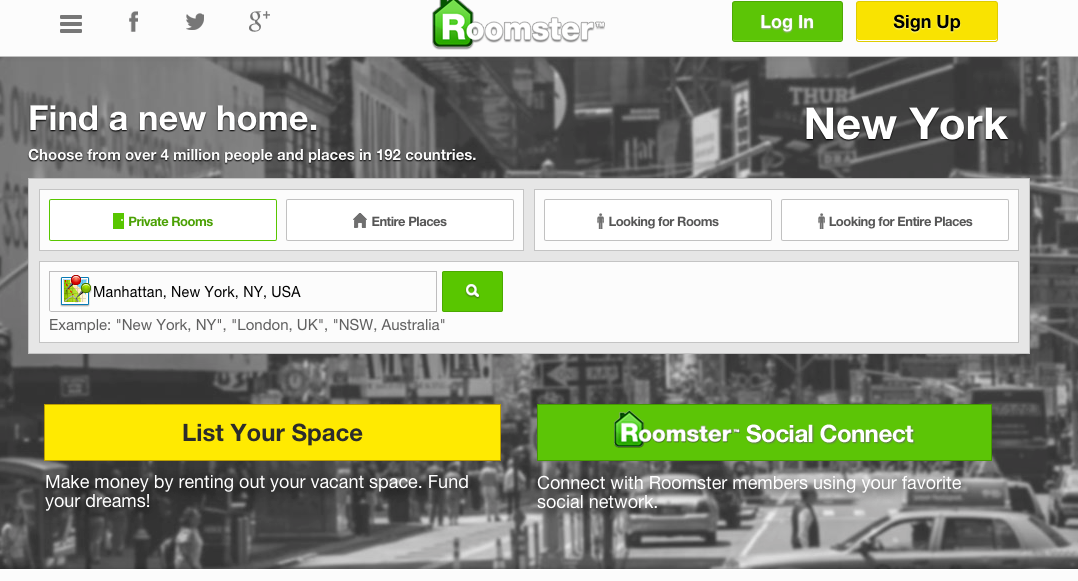 Touting itself as the "world's largest social network for roommates, rooms, apartments, flats, rentals, and sublets," Roomster has people create profiles, then helps match up potential roomies by allowing folks to filter by such things as age or interest. The website's Social Connect feature lets (verified) users contact each other directly via telephone, email, or social networking sites like Facebook or Twitter. Viewing ads, posting a profile, and even sending messages is free, but you can't respond to messages in your inbox or access the Social Connect feature unless you upgrade. It's $5.95 for three days, $14.95 for 15 days, and $29.95 for a month.
Also, the powers that be remove all listings every 30 days so they never have old or stale listings. 
10. RoomieMatch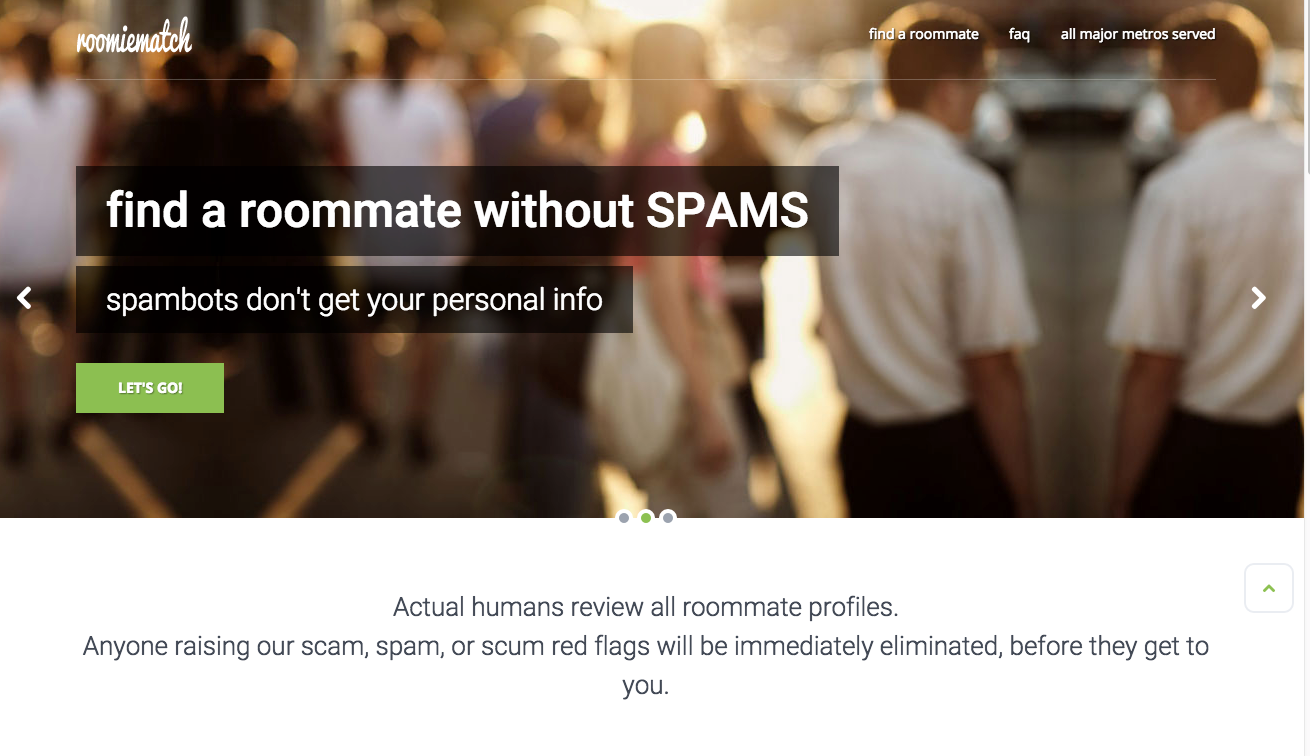 Workers supposedly screen every profile in RoomieMatch's system to weed out "slimeball rip-off artists." Profiles aren't actually posted to the site. Instead, matches are emailed directly to users based upon responses to a very detailed list of questions covering everything from dishwashing habits to recycling practices to tolerance of one-night stands.
Creating a profile is free, but if you want to contact matches yourself, you'll have to pony up $19.95 for the year. It rarely will take a year to find a roommate, but that year-long membership is helpful if your first place doesn't work out or is a short-term sublet. 
11. Roomi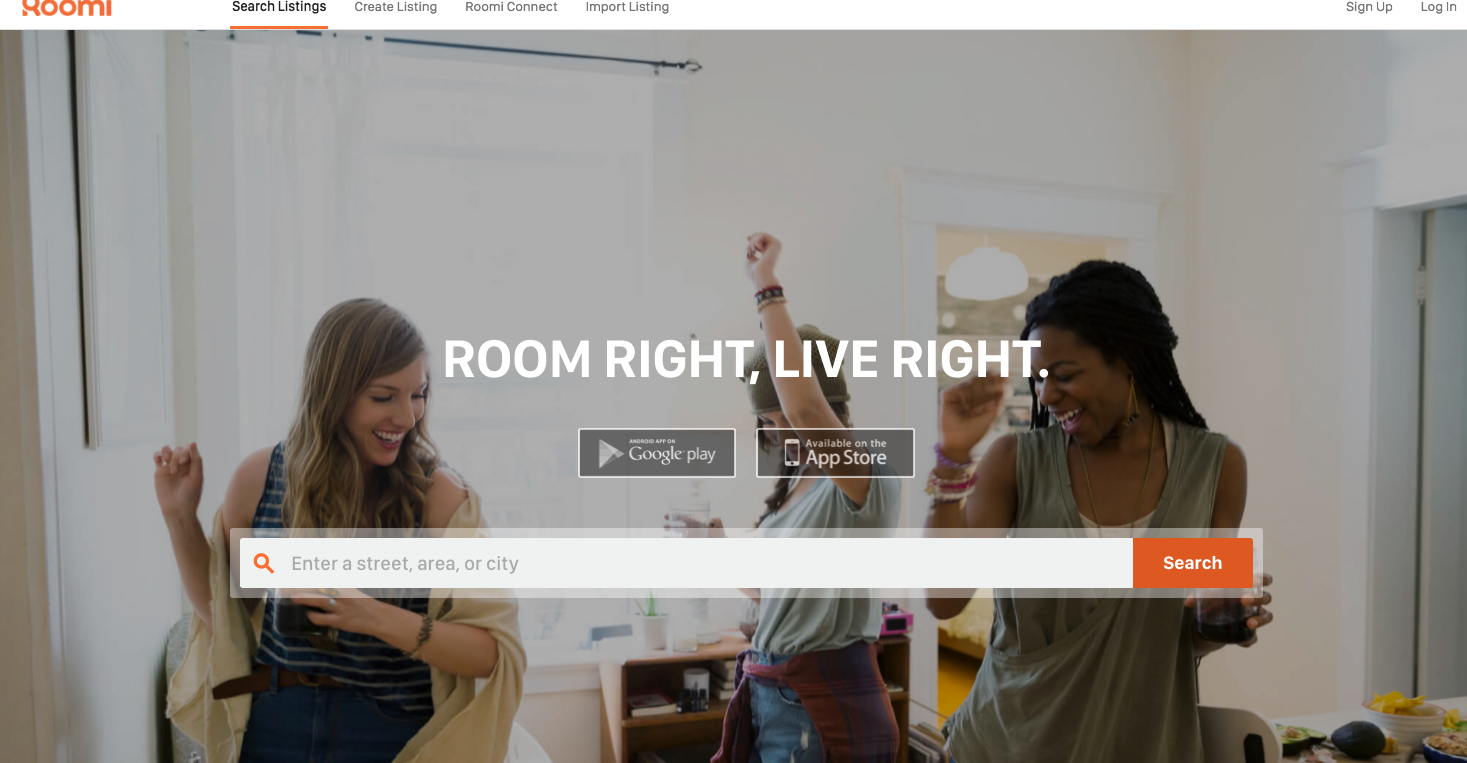 The brains behind Roomi believe that a lot of roommate-related headaches (and heartaches) could be avoided if only would-be roomies bothered to truly learn about each other before renting that U-Haul. As such, users can specify what they're looking for in an ideal roommate (are you an introvert, too?), as well as potential deal-breakers (smoke much?), and a chat feature that connects those looking for rooms with those who have them even allows folks to see if their messages are being successfully delivered—look for a gray check mark if it was sent, and a green one if it's been read.
All listings and users are verified before going live to ensure that they are in fact real places and real people. The site encourages folks to sign up via Facebook to make this authentication process easier since it allows Roomi staffers to review people's profiles, friends, and activities to confirm that they are, in fact, who they say they are. 
12. Room Zoom

Elien Blue Becque launched RoomZoom in May 2016 after her own personal experience vetting roommates in her four-bedroom Williamsburg apartment. To get started, you create an account (free!), and answer a series of questions about your lifestyle, your budget, and personality (including your housekeeping style and how much you like to share). Then, the company uses that data and delivers a ranked list of roommate matches. Unlike Craigslist of Facebook, there's an algorithm at work here, which should make it easier to ensure a compatible match. Once you're matched up, you can read more about the person and message them if you're so inclined.
You can search both for people with rooms within an apartment that they're looking to fill, or for people who are looking for both a roommate and an apartment. The site is user-friendly, clean, and you get a lot of information about each potential roommate as well as photos of the apartment if they have one already. 
Added bonus: The service goes beyond roommate matching, and will also suggest apartments that have been pre-screened and approved for fair value and decent living conditions. 
13. Craigslist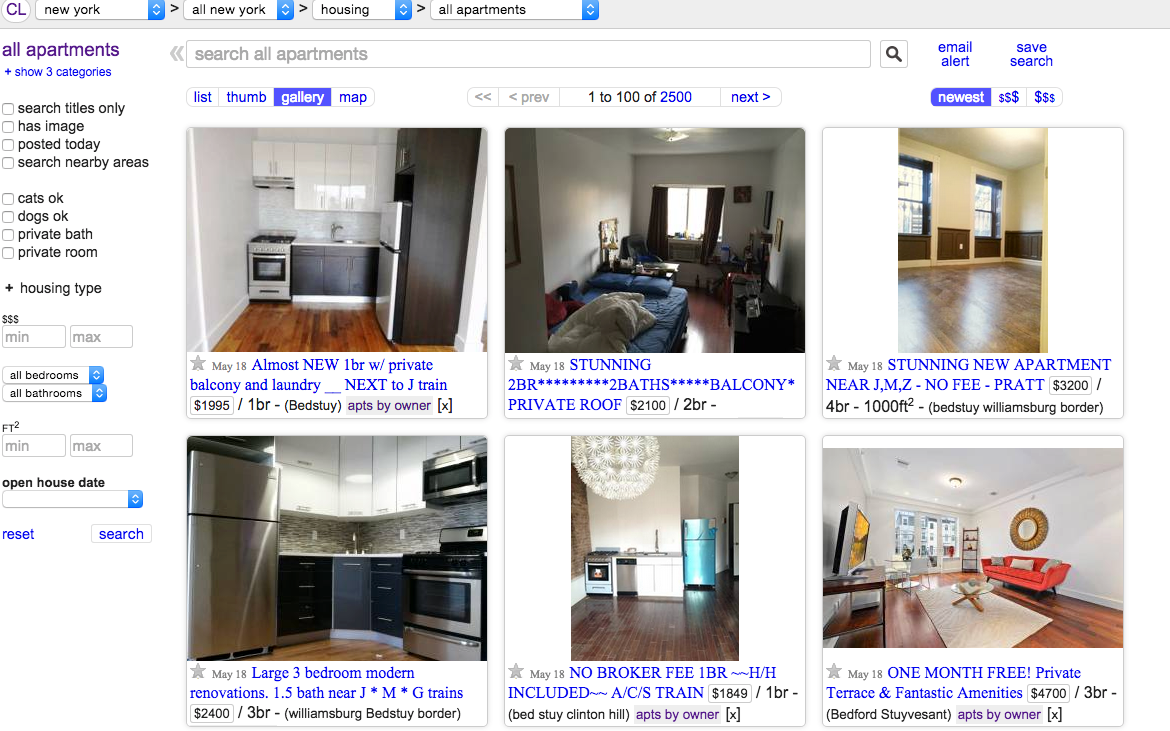 Never say never. Despite the occasional horror story, Craigslist remains popular, with hundreds of postings for roommates in New York at any given time.
Since this oldie-but-goodie is free of charge, anyone can and does use it—including folks whose intentions are less than honorable—so be sure to take some safety measures before meeting anyone you've contacted through the site in person. Insist on getting together in a public place. Always carry your cellphone, and never ever invite strangers into your home. In fact, you should do this whichever site you choose to use. 
Related posts:
The 8 best websites to find a no fee apartment in Manhattan
The 12 Best Landlords in Manhattan: A Brick Underground Guide