For homeowners, there's perhaps nothing as depressing as an outdated or ugly bathroom. Renovation matchmaking service Sweeten should know: The company has seen thousands of sad bathrooms, from retro (and-not-in-a-cool-way) colors to illogical layouts to plumbing leaks that cause other issues.
The good news: Transforming this small personal space from a "0" to a "10" in terms of function and style can make a huge difference in daily happiness. So what is the price of this blissful bath state, and what's the best project flow?
Unless you're simply swapping out a vanity or toilet, it's likely to be easier and less costly to plan a gut renovation than to tackle different areas piecemeal. Why? Because just replacing the lighting fixtures and re-tiling, for example, can escalate to a larger project if, say, the sheetrock and pipes are found to need work, too. "A gut bathroom renovation allows you to plan more broadly, so you can get more done, in the right sequence, more cost-effectively," explains Jean Brownhill, founder and CEO of Sweeten, a free service that matches homeowners with screened general contractors in NYC and the tri-state region, providing personal support until the renovation is completed.
According to the pros at Sweeten, the starting point for a bathroom renovation in New York City is $15,000. Here's how that price tag breaks down:
MATERIALS
Material costs can vary wildly depending on the quality and style of the fixtures you choose. To educate yourself on pricing, try out Sweeten's bathroom renovation cost estimator, and review major expenses below:
• Wall & Floor Tiles: These can range from $3 per square foot for basic ceramic subway or penny tiles to around $15 per square for glass or red clay tiles and over $35 per square foot for top-of-the-line tile stone or marble. (Money-saving tip: Limit tiling costs by painting direct water-exposed areas with moisture-resistant, high-gloss paint instead.)
• Sink & Vanity: You can buy sink bowls solo or with their own storage vanities. Sink bowls alone run $200-$1,200 and vanities about $250 for a basic option, up to $3,000+ for semi-custom pieces.
• Sink & Shower Fixtures: Basic faucets and showerheads are $50 to $400. Statement versions (think handheld showerheads and adjustable water settings) can run up to $1,000.
• Bathtub: Standard tubs sell for $600 to $3,000+, depending on size and finish. Those with bonus features, like hydro jets, cost extra and will add more in plumbing and, possibly, electrical labor costs. (Money-saving tip: Instead of investing in a new tub, have your existing one re-glazed for about $400.)
• Shower Enclosure: A glass door for shower—$350 to $2,000—costs more than a basic curtain, to be sure, but a door won't require frequent cleaning and replacing either.
• Toilet: Think $200 for a basic tank-and-bowl option to $1,000+ for fancier versions with tanks mounted behind the wall or special features like heated seats, hands-free flushing and seat covers that open and close automatically.
• Medicine Cabinet: These range from $150 for a basic wall-mounted unit that hangs on the surface of the wall to $500+ for space-saving, recessed versions.
• Accessories: Hooks, towel bars, toilet paper holder and the like can be found for $20 to $100+ apiece.
• Lighting: Plan on $25 each for basic flush mounts and up to $300 or more for higher-end pendants and fixtures.
• Extras: If you're dreaming of radiant floor heating or his-and-her vanities, those will add to your tally.
LABOR
Design Stage: Here, you and your contractor or architect work to create a space that meets your needs and budget. The resulting drawings should include all the physical elements of your new bathroom: layout, plumbing fixtures, specs for the vanity and tub/shower and lighting, plus faucets, tiles and hardware. This is also the time to account for building management requirements, such as insurance coverage minimums (some buildings only allow contractors who carry high-value insurance policies, which may limit who you can work with) and alteration agreements, which cover things like debris removal, noise limits and work hours.
Prep Stage: This is the point at which the old bathroom fixtures are removed and space is prepped for installation of your new sink, toilet, vanity, etc. It may also include stripping of walls and flooring for framing and leveling, replacing drywall and plaster, and addressing plumbing and electrical issues. Keep in mind that any plumbing work exceeding minor repairs—almost anything beyond swapping out a fixture for a similar one—will require a permit from the Department of Buildings (which can run $2,000/permit) and the hiring of a professional plumber.
Installation: The most exciting stage for many, when all the elements you purchased are fitted into your space and your new room finally comes together.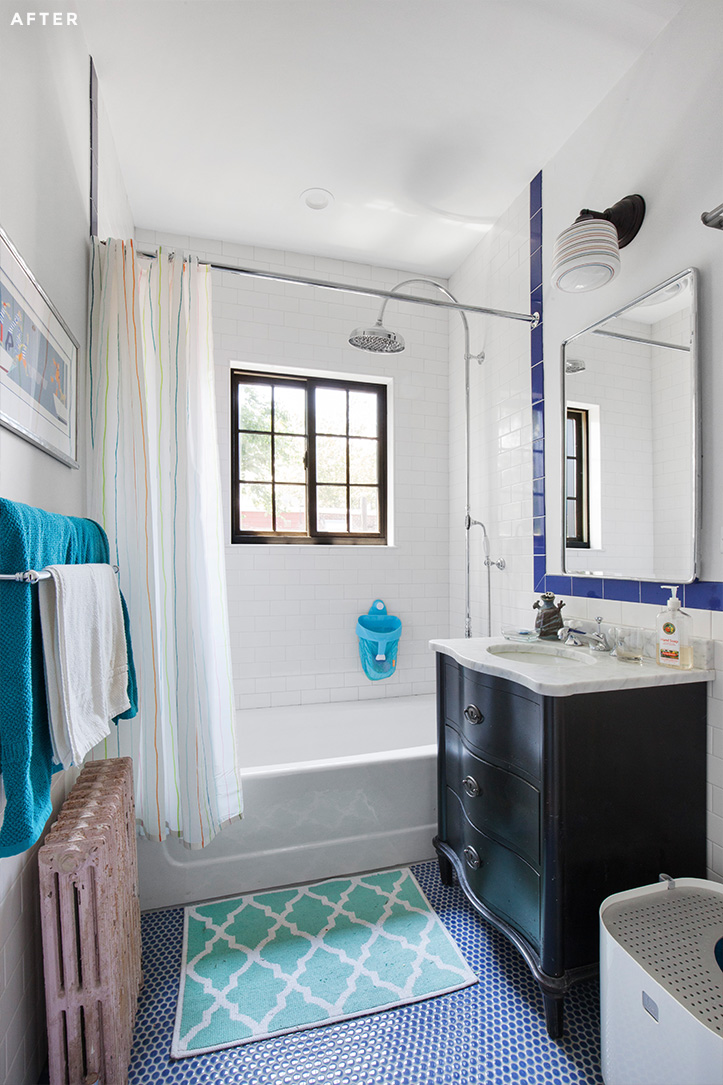 With some careful planning and purchasing—and a trusted general contractor— you can absolutely transform a typically tight NYC bathroom from dull to dynamite.
---
Named "Best Contractor Locator" by New York Magazine, Sweeten is an award-winning, free service that matches homeowners with the best general contractors for their renovation, with support from start to finish.